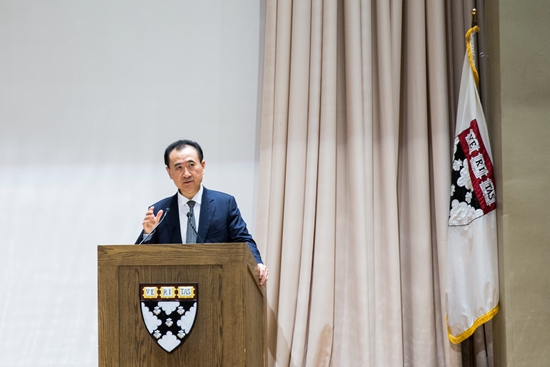 Wang Jianlin gives a speech at Harvard Business School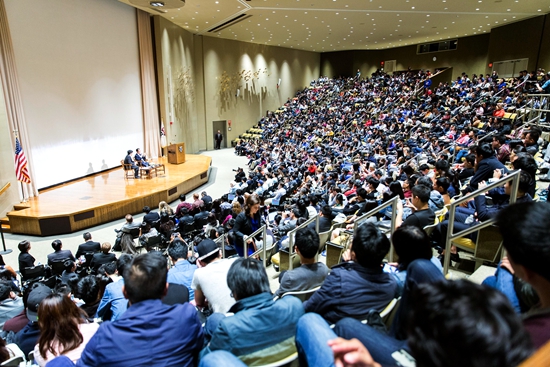 More than 900 students attended the lecture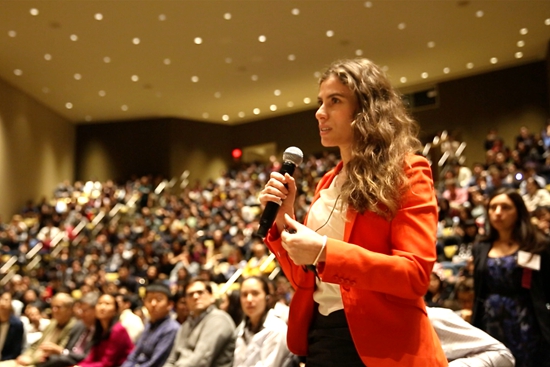 A student raises a question at the lecture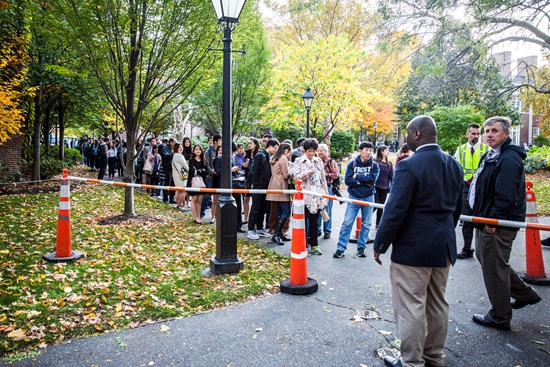 Students wait in line to enter the Burden Hall before the lecture BOSTON, 30 October 2015 - Wanda Group Chairman Wang Jianlin was invited by Harvard University as the first Chinese entrepreneur ever, to give an open lecture to students on "Wanda's Globalization Strategy". Over 900 students packed Harvard Business School's Burden Hall to full capacity, while another 800 students had to resort to waiting outside. A student at the event commented on the amazing attendance and was surprised that a Chinese entrepreneur's were attracting such an avid interest.
Wang Jianlin's open lecture at Harvard has set two new records: It is the first time a Chinese entrepreneur has given an open lecture at the Harvard and secondly, more than a thousand students, including even those off campus, applied to attend the lecture. Due to the unexpected interest that the event attract, Harvard had to change the venue 3 times, ultimately choosing Burden Hall due to its large capacity.
Wang Jianlin spoke about Wanda Group's 27-year history and its fourth and most recent company transformation. He also elaborated on how one should go about making the evolution from a local Chinese company to a globally recognized brand. "Wanda has achieved today's results through unremitting efforts and we still continue to strive for excellence. I believe that I'm just experiencing a journey. "
After the lecture, Mr. Wang engaged in an open Q&A session with students, calmly handling questions on issues ranging from Wanda's political ties, strategic objectives behind its investment overseas, his outlook on China's slowing economic growth, the US presidential elections and Sino-US relations, as well as China's One Child Policy and resistance to Wanda's real estate project in Spain.
Harvard's open lectures are famous for having featured influential scholars, business magnates and political leaders. Topics cover science, literature, art, business, management, and more. Nobel Laureate A. Michael Spence and Microsoft founder Bill Gates have previously shared the stage. The lectures are also available to a worldwide audience online.
Among the renowned individuals that shared their knowledge at Burden Hall are Clayton Christensen and former Chinese premier Wen Jiabao.
As the first Chinese entrepreneur invited to give an open lecture in Harvard, Wang Jianlin is among the first group of Chinese to introduce China's management philosophy to foreign countries.
Transcript: Wang Jianlin delivers open lecture at Harvard Business School
For more information,please click: