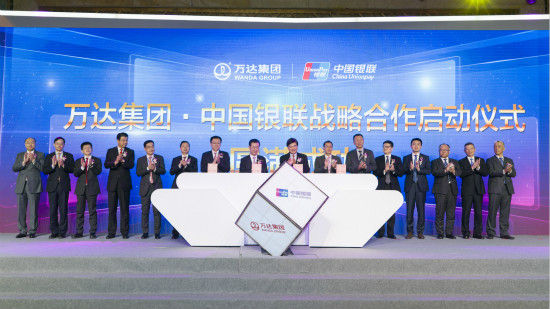 Signing ceremony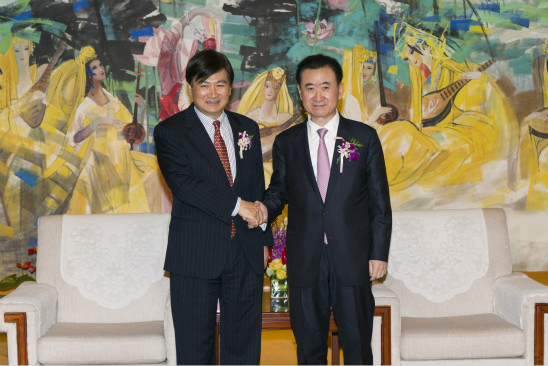 Chairman Wang Jianlin shakes hand with CUP chairman Ge Huayong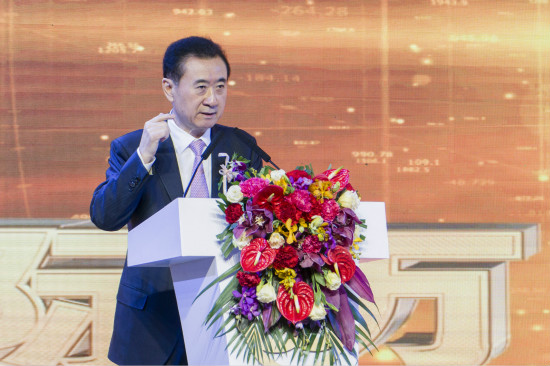 Chairman Wang Jianlin gives a speech at the signing ceremonyOn March 2, China UnionPay (CUP) and Wanda Group marked the launch of their strategic partnership with a ceremony in Beijing, which was attended by CUP chairman Ge Huayong and Wanda chairman Wang Jianlin. The two innovation-driven global leaders have officially started concerted efforts to build a "cloud for business" service for consumption scenarios in order to optimize services on the supply side, drive entity economy transformation, and bring new and superior experiences to consumers in all kinds of consumption scenarios.
China UnionPay and Wanda Group signed their strategic cooperation agreement in the first half of 2016. After comprehensive preparation, including R&D and designing plans, the project is now ready for implementation. According to the agreement, China UnionPay and Wanda Group will share business resource for extensive scenarios in which they leverage strengths and advantages by jointly developing a UnionPay cardholder service system and making various innovative applications, such as UnionPay QuickPass and other "Physical + Internet" payment applications. Such services shall be available at Wanda's wide-ranging properties, including commercial centers, department stores, supermarkets, theatres, hotels, theme parks and hospitals. The applications are hoped to provide consumers with all-new experiences, including precise notification of promotional information, mutual recognition of points and financial support for various scenarios.

As part of the strategic cooperation, China UnionPay's subsidiary, Shanghai Lianyin Investment Co., Ltd., will acquire a stake in Wanda Internet Technology Group. Based on the platform of Wanda Internet Technology Group, the parties will apply cutting-edge technologies for the world's largest commercial services in furtherance of the intelligentization of transactions and service scenarios. The construction of a "cloud for business service" ecosystem will promote payment innovation, big data applications and joint risk management.
According to the agreement, Wanda Group and partner merchants will gradually fully accept UnionPay QuickPass. China UnionPay and Wanda Group will also jointly expand customer service channels, carry out joint marketing campaigns, and explore the provision of value-added services for consumers in overseas regions where both of them offer services.
CUP chairman Ge Huayong said that China UnionPay is committed to becoming an open platform-based and comprehensive payment service provider with global influence that adheres to open cooperation and delivers compelling value to partners through constant improvement of payment efficiency and cardholder experiences. He added that the strategic cooperation with Wanda Group will explore new formats of commerce-finance integration and boost consumption upgrade and the development of the real economy.
Wanda chairman Wang Jianlin said that the strength-on-strength partnership of Wanda and China UnionPay will give full scope to their advantages in aspects relating to brand, scenario resources, customer base and finance technology. It will foster new formats of commercial consumption that thoroughly integrate the online and offline worlds, create new models of finance-commerce cooperation, powerfully drive physical commercial transformation, and set a new benchmark for "physical commerce + Internet".
...