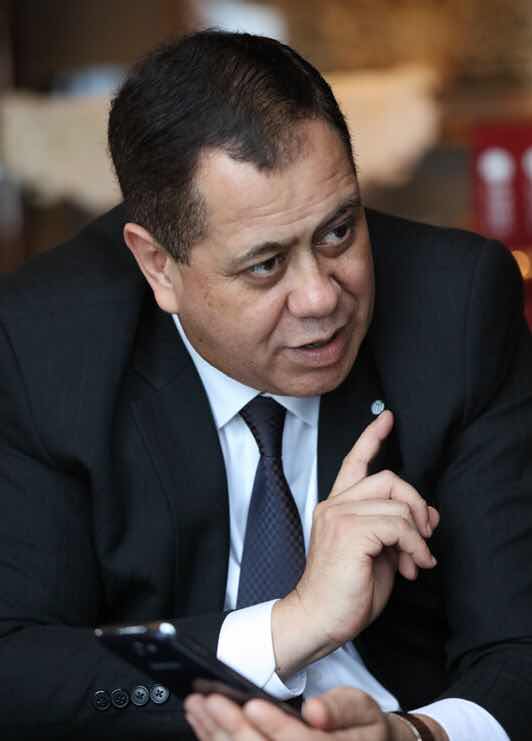 Originally from New Zealand, the résumé of Raymond James Bragg reads somewhat like an exotic travelogue, with stints in Yangon (Myanmar), Nairobi (Kenya), Cebu (Philippines) and Dalian / Chongqing / Shanghai / Nanjing (China). Right now this hospitality professional with three decades of experience calls Changsha, Hunan Province home.
Prior to joining Wanda Group, China's preeminent real estate developer, Raymond worked for such prestigious five-star international hotel brands as Traders, Shangri-La, Hyatt, Radisson and Kempinski.
Currently Raymond is both the Regional Managing Director South China and General Manager of the Wanda Vista Changsha hotel, where he lives in-house with his wife and four-month-old son. Whilst living where you work might seem too close for comfort for some, Raymond says it has its perks.
"I've been an hotelier for 30 years now, so I'm used to it. You know, there are pluses and minuses. The good thing about living in the hotel is that I see my family a lot and I know they're well taken care of."
Not to mention that right beside the luxury property is the Xiang River, where he can indulge one of his passions – fishing. A pastime he enjoys with his colleagues, namely the hotel's head chef, engineer, security guard and rooms manager.
And as a regional manager looking after 20 hotels (two under construction, 18 open) spread across six provinces – Guangdong, Hainan, Hunan, Hubei, Jiangxi, Fujian – Raymond has plenty of opportunity to explore the Middle Kingdom's expansive southern region. As you can imagine, for someone who's been in China since 1991, picking a favourite destination is no easy feat:
"I have a home in Chongqing so it's obviously got to be my favourite; not to mention I have a lot of friends there. I love the city. I love the cuisine. I love the people. My wife is from there, so I have family too. So that city has definitely got to be number one for me. I certainly like Shanghai too, because it is so vibrant, as well as Changsha, the city I currently live in."
Like most visitors to China, Raymond loves the variety of local food on offer, especially when there is ample spice involved. What he doesn't care for so much is stinky tofu (臭豆腐): "It's a bit like you're going to eat charcoal. Apart from that, I eat everything. Whether it's frog or chickpeas or stuff like that, I love it".
In terms of assimilating with the local culture, there is only one area where Raymond feels he's lacking, and that's with the mastery of Mandarin. Although his comprehension is decent, his speaking is not as proficient as he would like, as such he's taking Chinese lessons daily with his secretary.
Surprisingly for such a global nomad, it seems the wandering lifestyle has finally left this Kiwi boy who first went abroad in 1987. Since meeting his wife five years ago and joining Wanda Group in 2014, he is now content to call China home for the foreseeable future.
"It really is home. Although New Zealand is a beautiful country, it's a little bit small, a little bit far away from everywhere. I love it here. I love the lifestyle, I love the people and I love the work."
With Wanda Group, Raymond has also found a good long-term fit. Initially he was drawn to the group's China focus, owner-operator mentality and innovative spirit. Not to mention its eye for international expansion, under the watchful gaze of the group's hardworking Chairman, Wang Jianlin, whom he says has a very frank, direct and honest communication style which he greatly respects.
"Since I've been working with Wanda I've had a really good career growth and I've really...