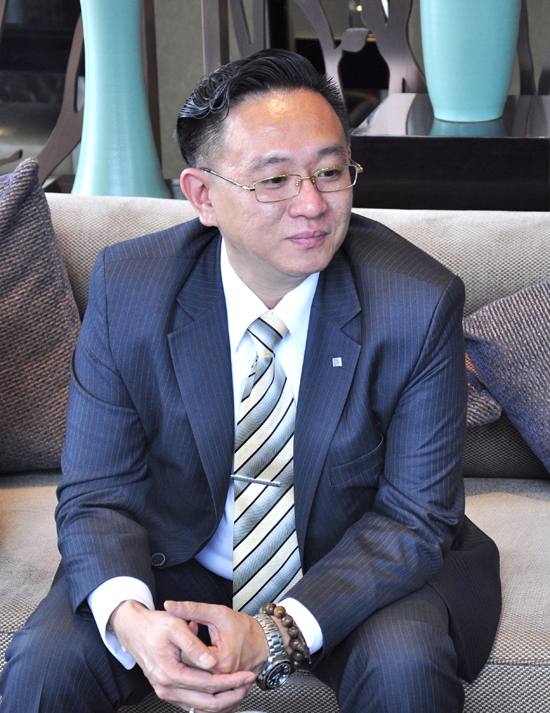 Sam Chin, the Malaysian-born General Manager of Wanda Realm Wuhan, runs a tight ship. After all, the tragedy that destroyed his childhood home has always stayed with him, a constant reminder to prioritize rules and regulations.
"In the hotel business, we talk a lot about safety, because it is my first priority. My house, a two-storey building, caught on fire when I was 11, and my house was completely burned down. I really felt the pain when I lost my home," he remembered. "So safety is the most important, not only to our guests but to our staff."
Beyond the regimented work nature at Wanda, Chin also let on that there is also an ingrained culture of mutual respect as well as an opportunity for long-term learning -- the main reason he decided to join.
"The company gave me an opportunity to learn, which is why I joined Wanda. Three years ago, Wanda was just expanding and building a lot of hotels. During the time of expansion, they would try a lot of new things, and we learned and gained valuable experiences from it as well," said Chin. "Everyone is working towards the same goals and we share all our resources. We're like a family, and we work together and support each other to achieve the same goals," he said.
Like Wanda, the Wuhan-based Chin, who was formerly the hotel manager at the InterContinental Hotels Group, has grown up with an international outlook and is also raising his children in the same way.
"My mother was from Hokkien and my father from Canton, but we are Hakka," he said and shares that his son and daughter have been his on-and-off travel companions for the past ten years. Despite a lack of a conventional home, Chin believes that his children have gleaned invaluable global perspectives: "They don't have a 'home' as most of the time they've stayed in hotels, but I believe that their experience will be an advantage in the long run."
Having worked in China for 16 years, Chin believes that Wanda's growth trajectory is on a similar path to the country's surefooted and pragmatic development into a world superpower.
"China is a very interesting country. It's grown very fast and they take steps very carefully. The progress is stunning," he said. "The government is trying very hard, step by step, to help the entire country grow and make sure that everyone benefits from it."
Chin draws the comparison between China's growth story and how chairman Wang Jianlin has cultivated the culture at Wanda. He remembers in late 2013 when Wang shared his business strategy at a company-wide conference.
"I could see from there that his plans to drive business growth to the rest of the world was aligned with the goals of the country to move forward; he wanted to focus more on the world and tourism. I felt encouraged by this because we were leading in the world. I could see that every step was carefully planned and well thought out to expand our business."
By next year, Chin reveals that Wanda will be expanding its luxury hospitality scope by opening hotels in the UK, Australia and the US – and he is excited by the prospect of being able to help with international expansion efforts.
"I hope that I'll have the opportunity to work overseas. I would have to learn new standards and different cultures, and I think this would be very good for the company as well. I can help the GM overseas work better and reach our goals for 2017," he said.
...