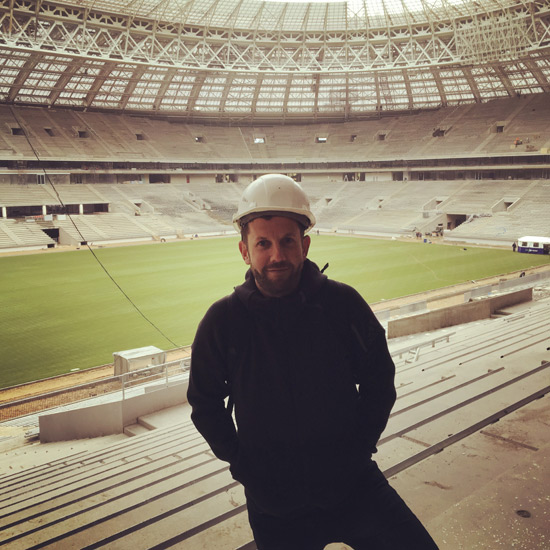 O`Connor joined Infront Sports & Media in fall 2016 after it was acquired by Wanda a year earlier. He helps Wanda manage and activate partnerships with the likes of FIFA, where he worked as a marketer for six years, and FIBA, basketball's governing body.
Hailing from Newcastle, England, O'Connor's world revolves around football and his insatiable passion for it. "It was my life. I grew up playing and watching football, so I had a great passion to work in this area. I worked for a sports marketing research company in Cologne for a few years, then for FIFA in Zurich," said O'Connor.
It would also be during these years that his passion for travel was ignited through the opportunity to work in some of the world's top football hubs. "I was lucky enough to work at the FIFA World Cups in South Africa and Brazil, and following Brazil, I worked at a global sponsorship agency in London for 18 months before joining Infront Sports."
As a diehard Newcastle United fan, some of O'Connor's fondest childhood memories have been at Saturday afternoon football matches, as he's been a season ticket holder since the age of six. Despite his fervent love for his team, O'Connor is open to discussion with football fans of all stripes, which he gets to do on a daily basis at work.
"The best thing about working in an international environment is there are fans from all around the world. In my office, I sit with a Slovenian guy who's a huge Inter Milan fan, and football is a daily topic of conversation for as long as I can remember," he said.
Lucky for O'Connor, his girlfriend has a shared passion, as she also works in the sports industry. He jokes that since she's Canadian, she has a "strong interest in the other kind of football." Despite having different sports preferences, O'Connor counts his like-minded girlfriend as a frequent travel companion, and the pair recently spent two weeks exploring the culture and cuisine of Mexico.
Having been in the role for only four months, O'Connor has been able to hit the ground running at Infront. He attributes this to his years of sports marketing experience in the football world, which has proven to be helpful in translating and referring business opportunities over to Wanda Group. Despite his confidence, he is also pragmatic about the areas of the business he'll have to wrap his head around.
Admittedly, O'Connor deems his new role as challenging due to the sheer size and potential of it. "When it comes to the global partnerships, there are so many Wanda business units that can get involved, such as the hotels, cinemas, theme parks and the real estate. So it's about making sure that you build relationships with all of those business units and help them to drive maximum value from their partnerships with FIFA and FIBA," he said.
But working at Infront has allowed O'Connor to learn about sports outside of his usual wheelhouse of football. "It's such a diverse company," he says. "We've got so many different sports." Indeed, Infront's portfolio includes a vast variety of sports built up alongside the three strategic pillars Spectator Sports, Participation Sports / Active Lifestyle and Digital. It covers all aspects of successful sporting events – including distribution of media rights, sponsorship, media production, event operation and digital solutions. As the global number one player in winter sport and with a leading role in football, summer and endurance sports, Infront enjoys long-lasting partnerships with close to 170 rights-holders and hundreds of sponsors and media companies. The company delivers 4,100 event days of top class sport around the...