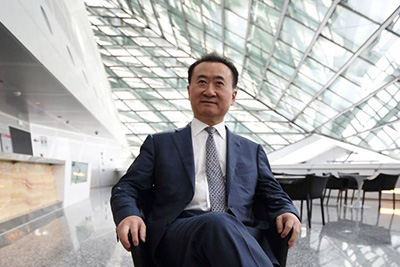 Wang Jianlin, founder and head of Dalian Wanda Group Co. Photograph: Tomohiro Ohsumi/Bloomberg
(Bloomberg) -- Reclining in a beige leather seat in his Gulfstream G550 private jet, Wang Jianlin barks an unlikely order as the aircraft descends into a remote pocket of Southwest China.
From Beijing to Hollywood to London and elsewhere in his expanding property, film and entertainment empire, Wang, the billionaire chairman of Beijing-based Dalian Wanda Group Co., is known as a stickler for formality. Not only does he favor dark business suits and ties, he empowers his receptionists to fine employees who fail to meet his dress standards. Today, though, China's second-richest man is clad in khaki pants and sneakers. And as the jet prepares to land in China's poorest province, Guizhou, he instructs his entourage to follow his example.
"This is a trip to lift poverty," Wang tells them. "Suits are not appropriate."
Swiftly, all jackets are discarded, Bloomberg Markets magazine will report in its March issue.
Despite Wang's efforts, his reception on the ground is anything but casual. Local officials in pressed black suits stand to attention in a piercing December wind. A police escort clears roads for his motorcade. As he approaches the hardscrabble city of Danzhai (population 170,000), neon signs along the four-lane main street flash the message, "Warmest welcome to Chairman Wang." It's the kind of treatment typically reserved for visiting government ministers. And though Wang, 60, has no political rank, he has rapidly growing financial clout, in China and abroad.
Fortune Doubles
Following the December initial public offering of one of Dalian Wanda's listed units and the January IPO of another, Wang's fortune almost doubled in the space of three months to $28.6 billion as of Feb. 9, according to the Bloomberg Billionaires Index. That moved him closer to China's richest man, Alibaba Group Holding Ltd.'s Jack Ma, who was worth $34.3 billion as of the same date.
Wang's empire had revenue of $40 billion in 2014. He controls the world's largest chain of movie theaters, measured by number of movie screens, and the second-largest commercial property company, measured by leasable floor space. Wanda's malls, offices and luxury hotels boast a total floor space of 93.5 million square meters (1 billion square feet), 1½ times all the leasable space in Manhattan.
Among the marquee projects: Western Europe's tallest residential building, One Nine Elms, in London; and Qingdao Oriental Movie Metropolis, which upon completion in 2017 will be the world's biggest movie studio and theme park. For the studio's 2013 groundbreaking ceremony, in the Chinese coastal city of Qingdao, Wang flew in Nicole Kidman, Leonardo DiCaprio, John Travolta, Catherine Zeta-Jones, Ewan McGregor and Kate Beckinsale to provide star power.
Wealth Gap
In lesser deals, Wang has also snapped up a British yacht manufacturer, Sunseeker International Ltd., and bought a 20 percent stake in Atletico Madrid, the reigning Spanish football champions.
Wang has even taken a shot at helping tackle one of China's most intractable challenges: narrowing the wealth gap between the rural poor and the country's new rich such as himself. Hence his appearance at Danzhai, where far from treading the red carpet with Hollywood royalty, he trudges through pigsties while talking up the $160 million worth of philanthropic investments he has planned. Wang hopes his efforts, which include awarding scholarships and building food-processing plants, will double the living standards of 2 million farmers in the next five years.
The tycoon visits a crumbling hovel inhabited by Huang Jinhe and...