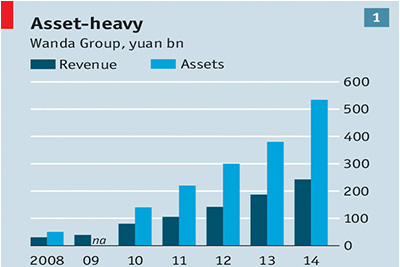 WANG JIANLIN started life with a red spoon in his mouth. His father was a Communist military hero who fought alongside Mao. Thanks to his influence, the youngster was able to join the People's Liberation Army at 15 and so avoid the worst deprivations of the Cultural Revolution.
After 17 years in the army, he decided that the future belonged not to generals but to businessmen. So in 1988, after a stint as a bureaucrat, he formed a property company in the north-eastern city of Dalian, using $80,000 of borrowed money.
His firm, Dalian Wanda, is now China's biggest private property developer, with shopping centres opened, or coming soon, in 100 cities. Last year its revenues rose to 243 billion yuan ($40 billion), up by 30% on a year earlier (see chart 1). The $3.7 billion flotation of its property division in December sent his personal fortune soaring past $25 billion: he vies with Alibaba's Jack Ma for the title of the country's richest man. Now China's land king is going global and diversifying from property.
He is doing so in style. You do not expect blaring disco music and strobes, leggy beauties and champagne first thing in the morning. But that is how Mr Wang—who favours private jets and flashy yachts (he owns Sunseeker, the British maker of the sleek craft seen in James Bond films)—celebrated his latest deal on February 10th. In the glittering ballroom of the Sofitel Wanda hotel in Beijing, he toasted a $1.2 billion deal to buy InFront Sports & Media, which holds some of the marketing rights to FIFA's World Cup. The previous month he took a 20% stake in Atlético Madrid football club. Mr Wang is also on track to become the world's biggest owner of five-star hotels, with billion-dollar investments in Sydney, London, Chicago and Los Angeles.
Hollywood moguls were perplexed when some Asian guy they hadn't heard of bought AMC, a big but struggling American cinema chain, for $2.6 billion in 2012. Some scoffed at his plans to spend $8 billion on the world's largest studio complex in Qingdao, China. But they certainly took note when he got Leonardo DiCaprio, John Travolta, Kate Beckinsale and other celebrities to fly there for the project's launch in 2013. He is now rumoured to have Lionsgate, the studio behind "The Hunger Games", in his sights.
Out-Disneying Disney
Mr Wang wants to transform Dalian Wanda into a global entertainment colossus capable of beating Disney, which plans to open Shanghai Disneyland next year. He is dreaming up acquisitions that will increase his group's annual revenues by 2020 to $100 billion, a fifth to come from outside China. He insists it can become a global force like Google and Walmart.
Mr Wang is clearly a man of Napoleonic ambition. The influence of his years in the PLA, where he rose from border guard to regimental commander, is evident. He is now 60 but maintains a trim figure and erect bearing. He also insists on iron discipline at work. Employees are fined for violating his conservative dress code.
However, his charmed career and his free-spending ways raise several important questions about Dalian Wanda's future. Could the cash cows funding his spending spree—those giant shopping centres—run dry as Chinese consumers switch to buying online? Does his diversification into ego-stroking industries make business sense? And will the close ties with government that have served him well thus far prove a liability in future?
Take the threat to his core property business first, where Wanda's bricks-and-mortar empire faces the twin dangers of a weak property market and rising online competition. China is experiencing a tidal wave of retail development. Jones Lang LaSalle, a property-management firm, estimates that the...