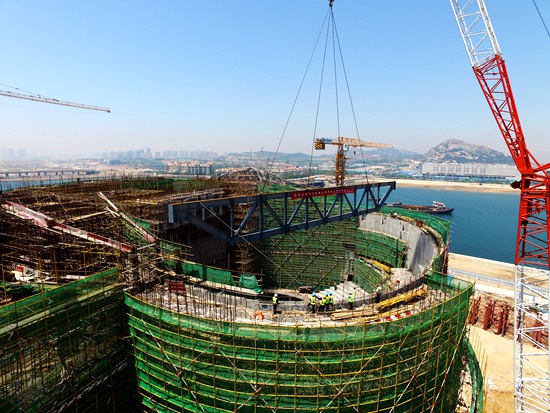 On May 19, hoisting of the first steel truss over the auditorium of the Oriental Movie Metropolis Grand Theater began, signifying that the Grand Theater has moved into the full phase of steel structure construction.
As one of the primary venues of the Wanda Qingdao International Film Festival, the Grand Theater has gross floor area of approximately 25,000 m2, and is the largest theater related project ever built by Wanda Group. The image of its facade, in the shape of a "silver conch set amid a turquoise sea" will become an important landmark in the entire Oriental Movie Metropolis.
The construction of the Grand Theater commenced in May 2015. The smooth hoisting of the steel structure is another symbolic node following the foundation pit waterproof curtain sealing, as well as topping off of the cement structure so as to ensure that precious time is gained for the smooth opening of the 2018 Wanda Qingdao International Film Festival.