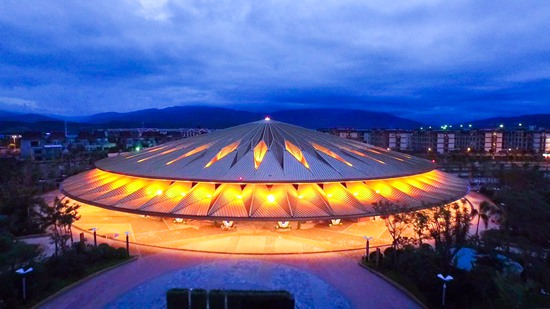 Wanda Xishuangbanna International Resort's Dai Show Theater won the "Golden Nugget Award," an internationally recognized architectural design and planning excellence prize, for Best International Commercial Project. The award is the second of its kind for Wanda, which won previously for the Han Show Theater in 2015.
The Gold Nugget Awards, created by Pacific Coast Builders Conference, are the oldest and most prestigious design awards and serve as a top annual event in the global real estate industry. Gold Nugget Awards recognize developers and designers with exceptional achievements in design, planning and development in global residential, commercial and industrial projects. They're open to builders, developers, architects, and land planners in North America and over 25 countries and regions.
This year's Gold Nugget Award attracted 665 projects to participate and 243 projects in 55 categories made it to the final round. The Dai Show Theater project outshined the other candidates in the Best International Commercial & Special Use Project category and took home the highest honour, the Outstanding Award, in this category.
Xishuangbanna's Dai Show Theater was designed by Mark Fisher, a top artist who served as the art director for the Beijing Olympics, the Guangzhou Asian Games and the opening and closing ceremonies of the London Olympics. The theater's golden roof is split in two tiers and creates a stunning daylight exterior. At night, lighting under the roof, when coupled with the surrounding landscape, makes for a brilliant view and one of the most eye-catching sites at the entrance of the resort.
In this competition, the Dai Show Theater, inspired by local nature and built with top-notch stage machinery and high technology, won unanimous recognition. Experts said the project was a remarkable example of architectore, embodying a perfect combination of performance structure and architectural design, while integrating the surrounding environment.
The Dai Show performance, directed by Belgian-Italian theater director Franco Dragone, displays the eco-system and lifestyle of Xishuangbanna, which include local nature, architecture and customs.