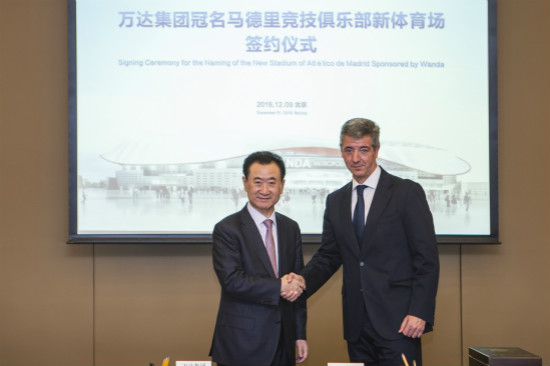 On December 9, Wanda Group and Atlético Madrid signed an agreement in Beijing. The new Atlético Madrid home stadium, to be in use from next year, will be named Wanda Metropolitano Stadium, and the name will stick for five years. This is the first time the stadium of a football giant is being named for a Chinese enterprise.
The new home stadium of Atlético Madrid will be able to accommodate 70,000 fans, the world's best football stadium. The football stadium will be opened during the 2017-2018 season, and the UEFA has already determined that the 2018 European Champions League finals will be held in the new stadium. Wanda is one of Atlético Madrid's largest shareholders and selects youth to travel and study with Atlético every year. The two sides have maintained good cooperation, and the price of the stadium naming is valued at a "friend price".
The vast majority of the world's major international sports organization headquarters are located in Europe. Wanda naming Atlético Madrid's new stadium will help the group expand its influence and strengthen its speaking rights in the world's sports industry, for more upstream core resources. Wanda is actively promoting transnational development, and Atlético Madrid is an internationally influential football club. Titling Atlético's home stadium will surely promote the international spread of the Wanda brand.