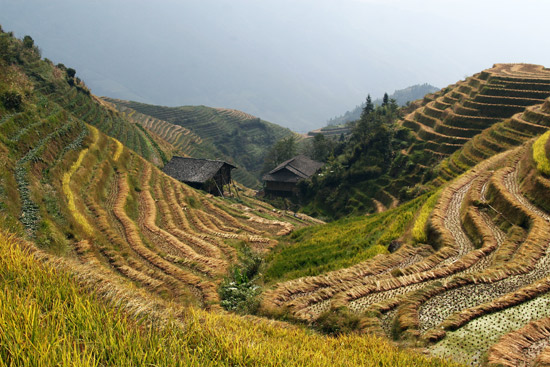 Like the contours of a geographical map, centuries-old rice terraces blanket the hillside terrain in Gaoyao Miao Village, located within the Danzhai in Guizhou province. A dark cloud rolls overhead. Rain is imminent. The imagery is breathtaking and it is attracting sightseers from all around China; the scene could easily be one of those Instagram photos you see, but don't fully comprehend.
And it isn't easy to understand. Rice has been growing in the region for almost a millennia, and while the scenery is as beautiful as ever, there is a deeper socio-economic problem that belies the sweeping landscape.
Times are changing and so is the traditional economy of the area. In 2014 Danzhai was designated as one of China's National Audit Office's target counties for poverty alleviation. Liu Jiayi, Auditor-General of the National Audit Office, proposed to integrate poverty alleviation funds and resources to help Danzhai.

Most recently, Liu visited the town with a special guest. Together with Wanda's Chairman Wang Jianlin, the two men announced Wanda's new poverty alleviation programme, which is set to launch in Danzhai. The programme involves a total investment of RMB1.4 billion, which will include the building of a RMB300 million Vocational and Technical Institute, a RMB600 million Tourist Town, and a RMB500 million Special Poverty Alleviation Fund for Danzhai. The plan is grand. Wang wishes to lift the entire population of Danzhai out of poverty, and in the process, he hopes that this new programme will set a precedent that can be replicated across China.
"Wanda's poverty alleviation scheme in Danzhai isn't about gaining publicity and shouting slogans. It is a strongly targeted poverty alleviation scheme that focuses not only on building projects, but also handles operations and in addition to alleviate poverty, it also drives development and aims to deliver results." Wang said during his February visit of 2016.
The strategy is to embed value-creating projects and institutions into the local community; providing transferable skills training and subsequent local employment for local residents. All programmes will kick off in 2017, but for now at least, residents can look forward to brighter days.