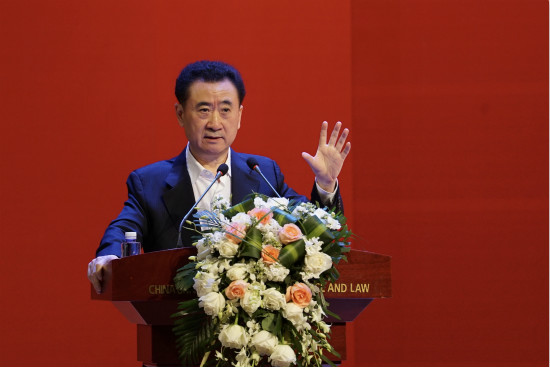 Wanda Group Chairman Wang Jianlin made a speech on building China's cultural confidence at China University of Political science and Law on May 12, 2017.
Following is the full text of the speech.
This speech was scheduled more than one year ago, for this time decided by CUPL president Prof. Huang. At that time, I was given three topics to choose from, and they were entrepreneurship, innovation, and cultural confidence. As I had spoken a lot on the first two topics, I chose the topic of cultural confidence for today's speech, on the theme of "Let Our Cultural Confidence Shine".
As there hasn't yet been much discussion about cultural confidence in China, my understanding of this topic might not be spot on. I will try to share my own understanding and reflections on the topic.
I. Why to Have Cultural Confidence
General Secretary Xi Jinping once called on the whole nation to have confidence in its chosen path, guiding theories, and political system, and above all to have confidence in China's culture. Cultural confidence, as I understand it, is the full understanding and appreciation and carrying forward by a nation and race of its culture.
Why do we emphasize cultural confidence? What role does it play? I think cultural confidence is very important in three ways:
First, cultural confidence strengthens national cohesion. A stronger cultural confidence means a stronger national pride and greater national cohesion. Chinese people also call themselves as Han Chinese or Tang Chinese. Why? Because the Han and Tang dynasties are the high points of Chinese civilization, whose strong economy and culture we pride ourselves on.
This pride and confidence has continued to this day. This cultural confidence remained intact even when the Chinese nation went into low ebb three hundred years ago, and gave us hope and belief in the nation's future during the great crisis of the war of resistance against Japan. It can be said that this cultural confidence and the hope for the nation's better future have closely knit all Chinese around the world together.
Secondly, cultural confidence improves national competitiveness. National competitiveness comprises hard power and soft power, with hard power covering such aspects as economy, military and technology, and soft power covering culture, education, politics, diplomacy, development model, and others, with culture at the core. A stronger culture directly translates into a stronger national competitiveness.
In the 1970s and the 1980s, Japanese corporations went on an epic buying spree in America, acquiring so many American companies that the Americans were worried that Japan would buy up America. Some people wrote to the then U.S. president calling for restriction on Japanese buying of American assets. It was said that the president made a famous remark in response, to the effect that America can sell anything as long as things like Disney and Hollywood are not sold to the Japanese and there is nothing to be worried about. This episode reflects the importance of cultural prowess.
Thirdly, cultural confidence is the lifeblood of a nation. Of the four great ancient civilizations — the ancient Egyptians, the ancient Mesopotamians, the ancient Indians, and the ancient Chinese, only the Chinese civilization has managed to survive continuously. There were not without periods in which the Chinese nation was under foreign rule, such as during the Northern Wei Dynasty, the Yuan Dynasty and the Qing Dynasty, but instead of conquering the Chinese nation, the foreign nations were absorbed by the Chinese culture and became part of the Chinese nation. This shows the great power of the Chinese culture which we have every reason to have confidence in and feel proud...