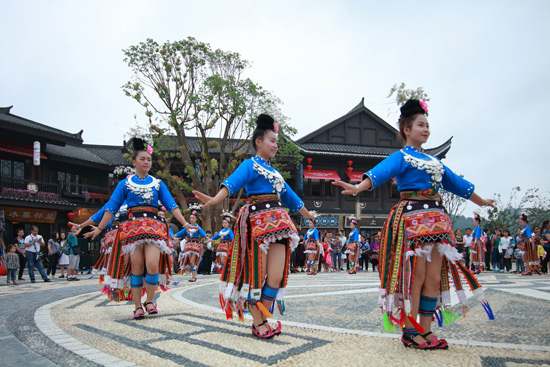 On October 10, Wanda won the Award for Advanced Private Enterprises in "Enterprise-to-Village" Targeted Poverty Alleviation Program. The Award is jointly sponsored by All-China Federation of Industry and Commerce, The State Council Leading Group Office of Poverty Alleviation and Development, China Society for Promotion of the Guangcai Program and Agricultural Development Bank of China, and is mainly aimed to commend advanced private enterprises, pass positive energy, and incentive and encourage more private enterprises to participate in target poverty alleviation. The "Enterprise-to-Village" Targeted Poverty Alleviation Program Leading Group decided to recognize and commend 116 advanced private enterprises in "Enterprise-to-Village" Targeted Poverty Alleviation including Wanda after rounds of recommendation and selection.
All-China Federation of Industry and Commerce noted in its Notice on Commending Advanced Private Enterprises in "Enterprise-to-Village" Target Poverty Alleviation that, these enterprises proactively take social responsibilities, vigorously accelerate the common prosperity, carry forward Chinese Nation's good tradition of distress relief and poverty alleviation and place their focus on innovation in targeted poverty alleviation modes while seeking for the healthy and stable development, setting good examples for other private enterprises. Wanda won this award for its poverty alleviation activities launched in Danzhai.
Wanda-Danzhai Targeted Poverty Alleviation Program is another innovation made by Wanda in poverty alleviation based on its successful poverty alleviation experience accumulated over the past years. The Program is aimed to drive the economic transformation of Danzhai to make it totally get rid of poverty through industrialization by taking market means in combination with the enterprise's advantages. After in-depth investigation and experts' discussion, Wanda finally determined to adopt the three-in-one poverty alleviation mode that combines the education, tourism and poverty alleviation funds in the long-, mid- and short run in consideration of the unique feature of Danzhai.
The long-term project refers to Guizhou Wanda Vocational College built with the investment of 300 million yuan from Wanda. The College is positioned to improve the quality of people in Danzhai, and eradicate poverty from the root. With the floor space of 300mu and the building area of 50,000 sq. m, it can accommodate 2,000 students, and is equipped with hardware facilities that are comparable with those in first-class vocational colleges in China. All the majors are set considering Wanda Group's correlated industries and job demands, and 50% excellent students are chosen from the graduates every year as Wanda's would-be employees. On September 29, Guizhou Wanda Vocational College officially started its courses. The College has a total of three majors including Medical Care, Accounting and Tourism Management, and will enroll 404 students.
The mid-term project means Danzhai Wanda Village with the investment of 700 million yuan donated by Wanda. It is built to drive the tourism development of Danzhai, and offers great number of jobs. With the floor space of 400mu and the building area of 50,000 sq. m, Danzhai Wanda Village is designed with Miao Village-featured style in combination with intangible heritages, ethnic handcrafts, Miao's gourmet, Miao's medicine and herbs, and is matched with four-star Wanda Jin Hotel Danzhai, numerous inns, Wanda Cinema, etc. It is now a comprehensive tourism program with unique features in China.
Danzhai Wanda Village offers over 2,000 jobs for local residents, significantly improves the local living standards, and drives the development of over 20 sectors including catering, accommodation, handicrafts...