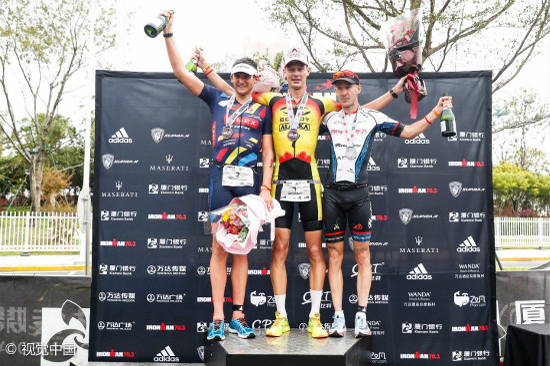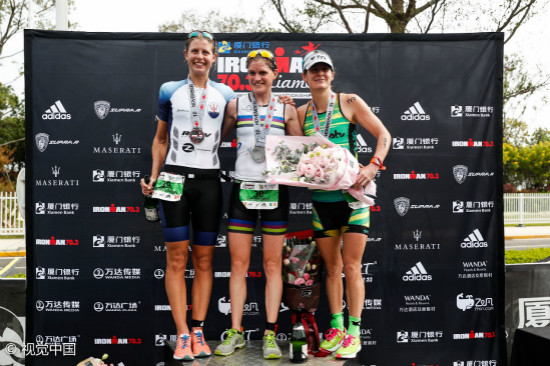 2017 Xiamen Bank IRONMAN 70. 3 Xiamen and Asian Club Championship came to a successful completion on the afternoon of November 12.
After hours of fierce competition, Sam Betten from Australia won the men's professional championship, and Eimear Mullan from Ireland won the women's professional championship. Chinese players also performed well this time. Bass (Li Pengcheng) and Hu Yan won the championship of their age groups respectively. Dang Qi, the first Chinese of "IRONMAN" served as commentator of this competition.
At 6:45 in the morning of the match day, players of the men's profession team started their competition. Sam Betten from Australia surpassed the competitors and topped the team with his advantages in running, and finally won the championship of 2017 Xiamen Bank IRONMAN 70. 3 with the total result of 3:53'30", even though was little behind in swimming and cycling. Justin Metzler, the third place of last IRONMAN Xiamen was 15s slower than Sam, and won the second place, realizing his promise to "stand on the podium again".
Jiang Zhihang and Miao Hao from China National Team also participated in the competition. Jiang Zhihang won the sixth place with a good result of 4:2'4" in his first IRONMAN competition. His teammate Miao Hao who competed in 2016 IRONMAN 70. 3 ranked the eighth with a result of 4:10'5".
The women's professional team also brought fierce competition. Haley Chura, a famous American swimmer who won the third place of 2017 Liuzhou Bank IRONMAN 70. 3 Liuzhou, held on her favorable position in swimming, and started her cycling after only 20'28" of swimming. Unfortunately, Haley was surpassed by two of her competitors in subsequent competitions. Finally, Eimear Mullan from Ireland won the championship of women's professional group with a result of 4:14'22".
In amateur team, Chinese players also had eye-catching performance in 2017 Xiamen Bank IRONMAN 70. 3 Xiamen. Bass (Li Pengcheng), who attracted great attention before competition,won the championship of his age group with a result of 4:11'23' and became the first amateur player breasting the type. Chinese female player Hu Yan also won the championship of her age group with a result of 5:13'43". Hu Yan from Dalian is the first female player in Chinese mainland obtaining the qualification to participate in IRONMAN KONA world championship. She has now completed 69 competitions and won 58 championships since she started her triathlon career when she was 58.
IRONMAN 70. 3 Xiamen is sponsored by Xiamen Municipal Government and Beijing Wanda Cultural Industry Group Co. , Ltd. , undertaken by Xiamen Municipal Bureau of Sports and Wanda Sports, and supported by Xiamen Culture and Advertising Media Co. , Ltd. Such mainstream network broadcast platforms as NetEase, Sohu, Tencent, TouTiao, iQIYI, Panda TV and MITV broadcast the competition online, and such professional media as Biketo. com and Global Triathlon also continuously reported the event.
...