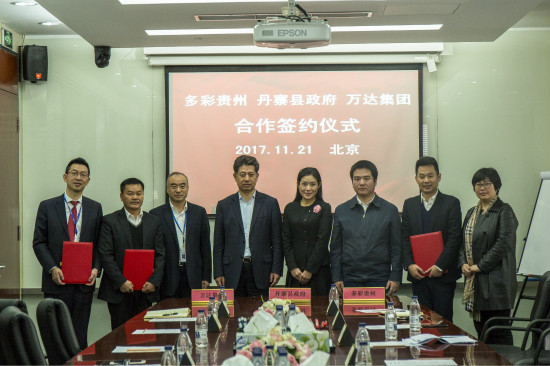 Next summer, tourists visiting Danzhai Wanda Village will have a chance to enjoy a large aquatic live-action show with unique customs. On November 21, Wanda signed a cooperation contract with Colorful Guizhou Culture & Arts Co., Ltd. to jointly launch a large aquatic live-action drifting experience show titled "Yang'asha", which will not only show the tourists charming landscape of Danzhai, but also present them unique customs and folks of the Miao Nationality, bringing them unforgettable memories.
"Yang'asha" is the pronunciation of the Miao Language, which means "water girl" in Chinese. The show is inspired by a folk myth of the Miao Nationality that represents the beauty of life and dedication, and is extremely innovative in both content and form. The show takes the surface of East Lake near Danzhai Wanda Village as the background, the world's largest water cart, cable bridge and other natural landscape as stage to create unique and immersed experience for audiences, with "flying birds, flying fish and interaction", "mountain, projection and antiphonal singing of Miao's love songs", "acrobatic performance and stunt interaction", "mountain-based LED", etc. as highlights.
Colorful Guizhou Culture & Arts Co., Ltd. is the only performing arts company in Guizhou awarded as "National Cultural Industry Demonstration Base" by China's Ministry of Culture. Its large folk song and dance Wind of Colorful Guizhou, which has been performed for over 10 years and is still popular among the audiences, serves a cultural name card of Guizhou.
Wanda Group began to provide targeted assistance to Danzhai County in Qiandongnan Miao and Dong Autonomous Prefecture of Guizhou Province since 2014, and made innovations in China's enterprise-based poverty alleviation model. Wanda invested a total of RMB 1.5 billion to build Danzhai Wanda Village, Guizhou Wanda Vocational College and Danzhai Special Poverty Alleviation Fund. Now, three programs have been completed and put into operation, bringing Danzhai profound changes.
With a total investment of RMB 700 million, Danzhai Wanda Village is the core program of Wanda's poverty alleviation programs, and covers an area of 400mu and a construction area of 50,000m2. As a featured comprehensive tourism project in China, this Miao Village perfectly integrates the national intangible heritage projects unique in Danzhai, ethnic handicrafts, Miao's cuisine, Miao's medicine and herbs, etc. and is supported by four-star Wanda Jin Hotel, numerous inns, a Wanda Cinerama, etc.
Danzhai Wanda Village becomes the new name card of Guizhou's tourism immediately after it was opened for business on July 3 this year, and has received a total of 2.6 million person times of tourists within 4 months, and 48.6% of them came from out of Guizhou Province, which significantly promotes the tourism revenue of Danzhai County. In the first 4 months, the total tourism revenue of Danzhai County reached RMB 1.57 billion.
In particular, great achievements have been made in poverty-alleviation. It is estimated that the incomes of 18,713 persons from 4,678 poverty households in Danzhai County were increased by RMB 5,365 on average by means of creating jobs, marketing products from poverty alleviation cooperative, promoting the sales of products from poverty households, etc. after Danzhai Wanda Village was opened for business. Moreover, the incomes of 7,924 persons from 1,981 poverty households in Danzhai County were increased by RMB 891 on average by driving the tourism in surrounding villages and service industry of Danzhai County.
Wanda actively increases the investment to provide subsidies for Colorful Guizhou in presenting a large...