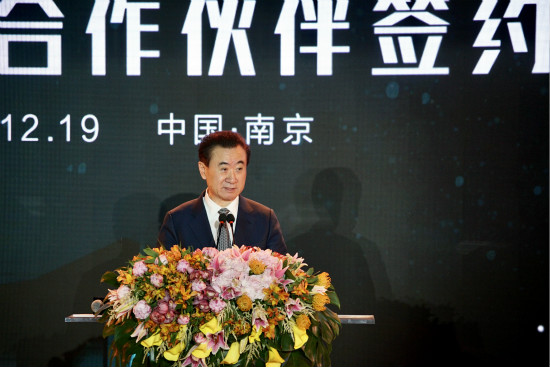 Following is the transcript of Chairman Wang Jianlin's speech:
Today, I heard a new idea of "Smart Retail" proposed by Mr. Zhang Jindong. So far, four major Chinese companies that perfectly integrate the Internet with retail have created three new terms: New Retail by Alibaba, Smart Retail by Mr. Zhang Jindong, and Unbounded Retail by JD.com. Now, it is Pony Ma's turn to raise his ideas. But I want to suggest that all these new ideas and strategies fall under the same theme – retail.
Mr. Zhang Jindong has given me a chance to present a keynote speech, and I'd like to share with you my own experience of "new tactics for brick and mortar business" in the limited time available. As Mr. Zhang Jindong said just now, the Internet has had a great impact on brick and mortar businesses since it entered China over 20 years ago, especially in the era of online shopping, threatening and even killing off a lot of physical stores.
As many people are wondering: are there still prospects for brick and mortar businesses? Is it worth investing in brick and mortar businesses? In the past two years, it seems that brick and mortar businesses have re-boomed as many internet companies and giants have shifted their focus towards offline expansion. As a representative of China's brick and mortar business, Wanda has suffered very little and even no impact from e-commerce in recent years.
For example, customer flow, revenues and rents are three core indexes for Wanda Plazas opened in the past 5 years. The first two are for our customers, while the last one is for Wanda. These indexes witnessed a QoQ growth of over 6% on average over the past 5 years, indicating not only that incomes increased, but also the increase in per customer transaction. In terms of investment, Wanda Plazas witnessed their fastest growth in the past 2 years. Wanda opened 25 Wanda Plazas a year at most before 2016. In 2016 and 2017, however, over 50 new Wanda Plazas were opened each year, representing an increase of 100%. Moreover, we have a grand vision to run about 1,000 Wanda Plazas within 10 years (as of 2028) from next year.
What does it mean? Taking this year's data as an example, a Wanda Plaza run for over 1 year receives an average of 20 million customers annually, while a Wanda Plaza in a third, fourth and even fifth tier city may receive 13 to 15 million due to the decline of populations in small cities. It also indicates that 1,000 Wanda Plazas will receive a total of 13 to 15 billion customers a year. Assuming that a customer visits Wanda Plaza 30 times a year, a proper frequency, we can conclude that about 500 million customers are revisiting customers. Then, I estimate that China will have an urban population of over 1 billion people, and, excluding little kids and the very elderly, about 600 to 700 million of them will be our customers. Thus, 1,000 Wanda Plazas will cover 90% of the cities in China, and 2/3 of customers with purchasing power will be Wanda's revisiting customers.
Now, I'll share you something about the tactics to apply brick and mortar business in this era of online shopping or smart retail in combination with the practices of Wanda over the past two decades, mainly including the following four aspects:
I. Positioning as a social center
Wanda Plaza has never been positioned as a shopping center since it was launched. In the past, we called...