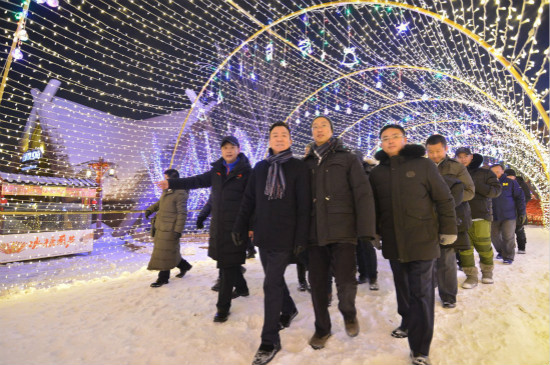 On December 21st, accompanied by President Zhang Lin from Cultural Industry Group, President Ding Benxi of Wanda Group inspected the Harbin Ice Lantern World in Harbin Wanda Park, which is scheduled to open soon, and made important instructions with regards to the preparation and operation of the project.
President Ding inspected themed zones in Harbin Ice Lantern World and watched several performances such as an ice dancing show, night tour, ice and snow cello, etc.
President Ding spoke highly about the preparations for Harbin Wanda Ice Lantern World and highly appreciated the arrangements made for the project. President Ding said that the opening of Harbin Wanda Ice Lantern World has been a vanguard and is demonstrative of the efforts that Wanda Group has made and will continue to make in terms of its shift from an asset-heavy to an asset-light business model.