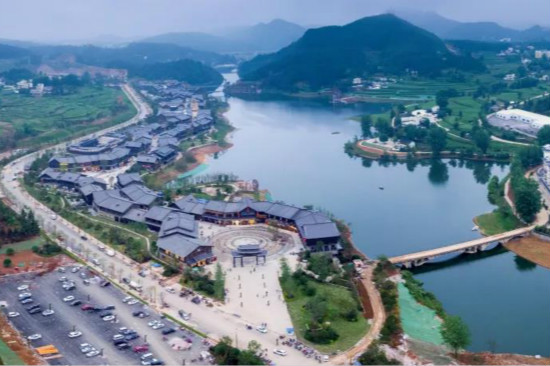 On December 22, Wanda Group attended the 2017 China Brand Forum held by People's Daily and delivered a speech titled "Creating a New Tourism-based Poverty Alleviation Brand". Following is the transcript of the speech.
Distinguished officials and guests,
Good afternoon!
It's a great pleasure to attend the 2017 China Brand Forum, and share with you our ideas about "Creating A New Tourism-based Poverty Alleviation Brand."
At the 18th National Congress of the Communist Party of China, President Xi Jinping required putting poverty alleviation and development at a very important position on the country's governing agenda. At 19th National Congress of the Communist Party of China, President Xi then proposed to take targeted poverty alleviation as one of the three key battles for decisive victory in building a moderately prosperous society in all aspects. At the Central Economic Working Conference just held in December 2017, President Xi clearly proposed to take the fight against poverty as an important part of key work in the next three years. It is the first time in the history of China and even the whole world that a national leader has attached such great importance to poverty alleviation and shown such deep concern for the poverty-stricken segments of society.
Pro-actively responding to President Xi's call, Wanda has always taken poverty alleviation as the Group's historical mission in the new era, the best embodiment of Wanda's social responsibility, and the priority for Wanda's work. By the end of 2014, Wanda had begun cooperating with Danzhai County in Guizhou to implement China's first innovative poverty alleviation model for "Enterprise-County Cooperative Poverty Alleviation," becoming one of the first batch of companies with the greatest investment in poverty alleviation. Danzhai County is also the targeted poverty alleviation county for the National Audit Office of the People's Republic of China (CNAO), which, in cooperation with Wanda, decided to implement the industrial poverty alleviation model focused on the "integration of long-, mid- and short-term poverty alleviation" in Danzhai County. Wanda invested a total of RMB 1.6 billion in Danzhai centered on tourism-based poverty alleviation, including RMB 800 million for a tourist village, RMB 300 million for a career technical college revolving around tourism vocational education, and RMB 500 million for a special poverty alleviation fund for orphans, disabled individuals, those suffering from illnesses, and other at-need groups not covered by the poverty alleviation program.
I. Tourism industry-based poverty alleviation
The core of targeted poverty alleviation is to formulate the right program capable of achieving remarkable progress, rather than just its investment and scale. Wanda devoted a whole year to carry out various investigations before finalizing Wanda's Danzhai Poverty Alleviation Program in a bid to identify a poverty alleviation industry with stable cash flow that would continuously benefit local residents. At the very beginning, Wanda focused on the tea, rice and pig feeding industries. After in-depth investigations, it found that pig feeding faces the challenge of changing cycles, while tea and rice face fierce market competition, with poor expected earnings. As a result, it was determined that these industries may not bring Danzhai County long and stable earnings, even if Wanda invested billions of RMB. During the investigations, Wanda discovered that Danzhai is a potential tourist destination due to its beautiful scenery and rich Miao and Dong cultures. Wanda decided to put tourism at the core of poverty alleviation in Danzhai County since the tourism industry has a long industrial chain that can...