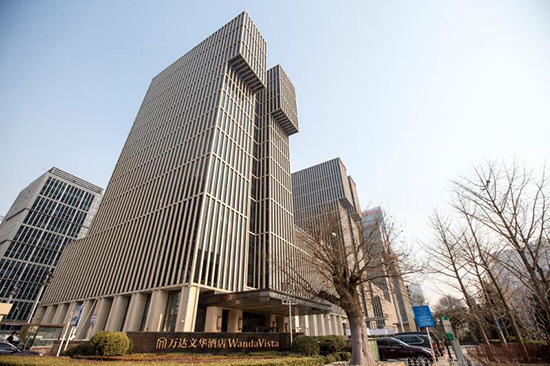 Among the forest of landmarks on Beijing's Chang'an Avenue, an illustrious Chinese brand has just been added.
On December 28th, Wanda Vista Beijing held a press conference, announcing its rebranding of Sofitel Wanda Beijing to Wanda Vista Beijing, officially effective as of January 1st, 2018.
Sofitel Wanda Beijing was one of the first platinum five-star hotels in China, invested in by Wanda Group in August 2007. Since its opening, its guests have included Nicolas Sarkozy, then French President, ambassadors to China from numerous nations and a host of politicians. Yao Ming, Liu Xiang and Roberto Baggio, together with many other international celebrities, have also chosen Sofitel Wanda Beijing as their place of stay or event venue while visiting Beijing.
The hotel's conference halls are among the most coveted in the city for a wide range of domestic and international conferences – guests must book months in advance to host a meeting at the hotel. Located just downstairs from the hotel, Wanda Cinema is also a leading choice for both domestic and international film premieres.
Now under the name of Wanda Vista Beijing, the hotel is the 19th Wanda Vista hotel, a brand independently managed and operated by Wanda Hotels & Resorts. The rebranding is clear evidence of Wanda's commitment to creating a self-owned premium hotel brand in China and to being a world-leading hotel management group.
Wanda launched its first hotel in Dalian back in 1996. At the time, Wanda aimed to focus on ownership partnered by cooperation with high-end international hotel management groups. Under this model, Wanda undertook investment and construction in the initial stages, while the international management groups operated, managed and held naming rights for the hotels. Over the years, Wanda has actively collaborated with such international groups as Accor, Hilton and InterContinental, among others, and rapidly established itself within the high-end-brand hospitality market both inside and outside of China. Sofitel Wanda Beijing is just such an example of a successful model created from such partnerships.
To break the dominance that other international brands held in the high-end hotel market, however, Wanda founded Wanda Hotel and Resorts Co., Ltd. in 2012, sparing no effort in building self-owned hotel brands such as Wanda Vista. Since this time, Wanda has gradually begun to withdraw management authorizations granted to international groups, and has steadily worked to develop self-owned premium hotel brands.
As of December 2017, Wanda Hotels & Resorts now operates and manages more than 60 hotels in over 50 cities throughout China. These self-owned hotels include Wanda's luxury hotel brand, Wanda Reign; its fine-tuned luxury hotel brand, Wanda Vista; its high-end hotel brand, Wanda Realm; and its choice hotel brand, Wanda Jin; all garnering reputations within the industry for excellence in business performance.
Over the past few years, high-end hotels across China have suffered through bouts of fine-tuning. Despite this, the performance figures of Wanda's self-operated hotels continue to rise, with occupancy rates, revenue, profit and other key performance indicators approaching or even surpassing those of many international counterparts.
Moreover, sticking with the asset-light business model, Wanda has continued to devote itself to...