Mr. Edmund Enstone, British Model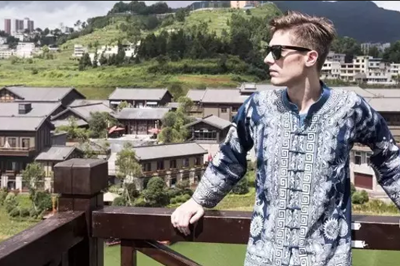 During his stay, Edmund designed mix-and-matches of Miao costumes and modern styles. He also participated in a traditional Miao wedding ceremony, playing the role of the groom. In addition, he held an outdoor concert with a local band, attracting tourists ever who were passing by the village. He also shared British snacks with local kids to see how they reacted to the English flavors. Finally, Edmund helped promote Danzhai culture to young audiences overseas through his Instagram account.
Danzhai, in Guizhou, China is a superb county, known for its colorful and distinctive ethnic cultures. Here the Miao people are fond of singing, dancing and celebrating. Yesterday the mayor of Danzhai Wanda VIllage Ed Enstone has gained a much deeper understanding of their customs through hosting live folk music jam session with a local band, and experiencing its
unique wedding rituals with the special arrangement made by the local Miao cultural performance team.
Our mayor incorporated traditional Miao batik into his modern Western style.
"It was a creative and interesting view on fashion and how different styles can work together, similar to this mayor visit, bringing western style and influence to the east. I liked matching the batik clothing, especially the jackets, with some of my own pieces and I think the look I created was new and exciting," Ed Enstone said.
For more stories and photos about this mayor, please go to our Facebook page https://www.facebook.com/danzhai.wanda.
More details about our mayor program here: http://wanda.m3ad.cn/wanda_head/en/.