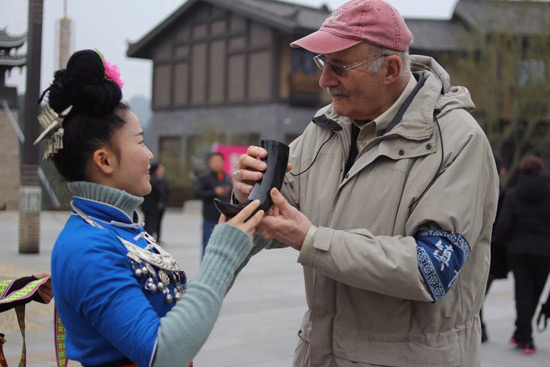 Dr. Kapp drinks "welcoming wine" upon arrival at Danzhai Wanda Village.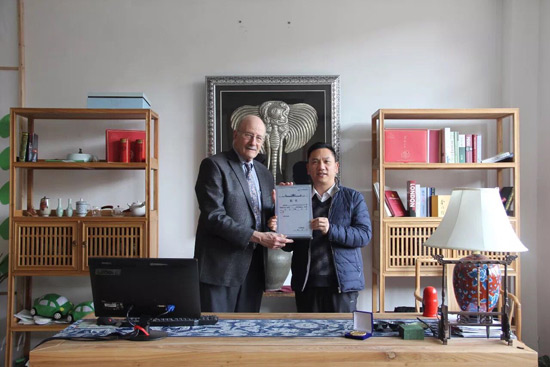 Deputy County Chief of Danzhai issues the "Letter of Appointment" to Dr. Kapp.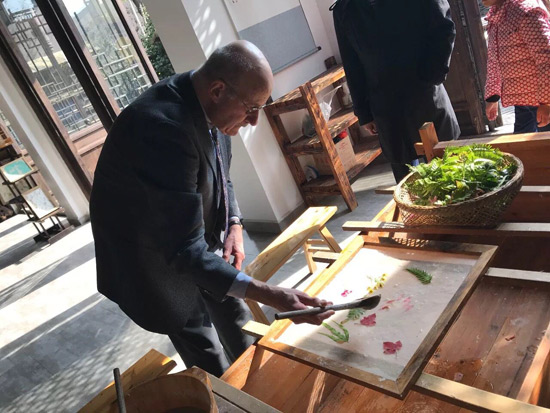 An experience of Miao handcrafted paper making.

Dr. Kapp tastes tea at Danzhai Wanda Village.From December 9-10th, 2017, Dr. Robert A. Kapp, an American historian and expert in U.S.-China relations, visited Danzhai as the 22nd "Rotating Mayor" of Danzhai Wanda Village, and became the first poverty alleviation advisor of Wanda's Danzhai poverty reduction program.
Dr. Kapp, former president of the U.S.-China Business Council, first traveled to China in 1977 and now had the opportunity to once again see first-hand how dramatically the country has changed since then. As the 22nd "Mayor" of Danzhai Wanda Village, Dr. Kapp's program agenda included visiting several sites directly benefiting from Wanda's Danzhai poverty alleviation program and offering informal comments on what he had learned as well as giving a lecture to students at Guizhou Wanda Vocational College and sharing stories from his many visits to China over the past 40 years.
Dr. Kapp visited the chicken breeding cooperative in Dianli Village of Xingren Town as well as the vegetable production cooperative in Yanglang Village of Yangwu Town, where he talked to the villagers and learned about how their lives have been positively impacted by Wanda's program. Dr. Kapp observed that, "It is amazing to see the size of the Wanda commitment to this beautiful community in Guizhou. I have not seen a project like this entirely supported by a private company in the United States, and will look forward to sharing what I have learned after I return to my country."
His lecture at Guizhou Wanda Vocational College was also a great success. Over a hundred students attended the lecture, eager to learn from the experiences and knowledge shared by the American scholar. Yang Zaimei, one of the students who attended the lecture said, "It was such a rare and wonderful opportunity for us to hear from the American professor giving us his lecture! It was a very inspiring and insightful talk, and I hope we can have more opportunities like this."
Commenting on his special trip, Dr. Kapp said, "My visit to Danzhai has been eye-opening and left a very deep impression on me. Danzhai Wanda Village is a good example of entrepreneurship, ambition, and a lot of hard work. In the coming years, I believe that the people of Danzhai County will experience long-lasting benefits from this exciting example of a public-private partnership."
With more than 7,000 applicants globally from the Danzhai Wanda Village "Rotating Mayor" Global Recruitment Campaign, the diverse collection of "Mayors" will include volunteers from the fields of hotel management, architecture, public speaking, academia, the arts, and many other areas of expertise. The "Mayors" will get the chance to contribute to the sustainable development of the Danzhai Wanda Village and have real, impactful change for the better.
Guizhou Province is one of the least developed regions in China, and, while Danzhai is blessed with considerable natural beauty and cultural heritage, the lack of infrastructure and general inaccessibility has held the region back in the past. Backed by a RMB 1.5 billion donation from the Dalian Wanda Group, the Danzhai Wanda Village is one part of a three-pronged development scheme -- the other prongs being the Guizhou...