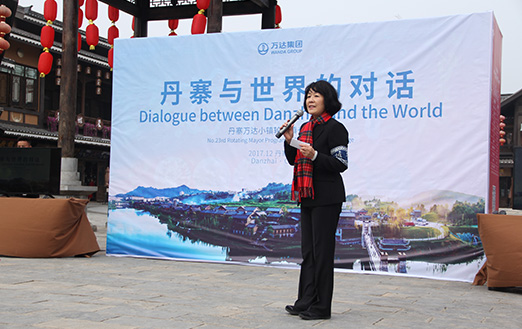 "Dialogue between Danzhai and the World" held by Ms.Haybina HAO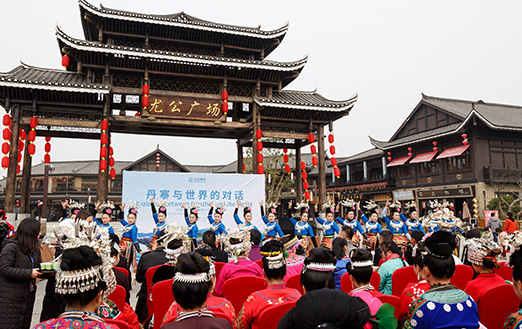 Pheasant Dance at "Dialogue between Danzhai and the World"On December 17th, 2017, Ms. Haybina Hao, former Vice President of International Development for National Tour Association of U.S.A., concluded her one-week stint as the 23rd rotating mayor of Danzhai Wanda Village, Guizhou, China. Her mission as the mayor was to help Danzhai Wanda Village transform itself from a 6 –month-old tourism town into an international tourism destination through better recognition by engaging international travel industries and tourists. As an overseas Chinese travel professional, who assisted in establishing a tour operator's reception system for inbound Chinese tourists in the U.S., Ms. Hao has broad experiences and knowledge in working with tourism promotion and destinations.
Following Ms. Hao's diligent preparation, a ceremony named "A Dialogue between Danzhai and the World" was held on 16th December, attended by the town's people, travel professionals and tourists. Attendees were thrilled to see the warm greeting vides and letters sent from 11 international destinations and tourism organizations to congratulate Danzhai Wanda Village for its huge success in attracting over 2 million visitors within 4 months since its opening the past July. They also congratulated for its recognition as the "Danzhai Wanda IIPT Global Town of Peace," which was awarded by Mr. Louis D'Amore, the founder and president of the International Institute for Peace through Tourism. The honor recognized Danzhai Wanda Village's contribution to community peace through tourism development.
Ms. Hao's mayorship also resulted in the signing of a Memorandum of Understanding (MOU) for a sister district relationship between Danzhai Wanda Village and Deadwood National Historic Landmark District in South Dakota, the United States. The MOU marked the first sister district relationship in China to focus on tourism-related connections with international destinations.
Ms. Hao's mayorship focuses on sharing the concept of sustainable development. She brings in the breathtaking documentary film, Home, to students at Guizhou Wanda Vocational College, which inspired the students to think bigger in helping saving the earth through daily living. "I believe Danzhai Wanda Village's vitality comes from everyone who visits here."
Haybina's mayorship mission clearly signals that the exchanges between Danzhai and the world will continue. Furthermore, it indicates that Wanda Group's creative efforts in poverty alleviation and in building the Danzhai Wanda Village and its surrounding region into a truly sustainable and prosperous community are continuing apace.
Danzhai Wanda Village and its global rotating mayor program aims to help uplift the local community out of poverty. With more than 9,700 candidates worldwide applying to its volunteer position so far, the rotating mayor program launched by Wanda Group has already appointed 23 rotating mayors since it kicked off this June. This program is expected to allocate an annual pipeline of 52 mayors, with one new mayor approved every week. The mayors have come from a hugely diverse range of career backgrounds – ranging from business, academia, art, sports, education etc., all have been dedicated to helping Danzhai alleviate local poverty by attracting greater tourism.
Located in the southwestern province of Guizhou, Danzhai County is one of the most undeveloped areas in China. Although endowed with spectacular natural scenery and an incredible diversity of ethnic cultures, Danzhai is a largely unexplored destination for tourists due to its previous...