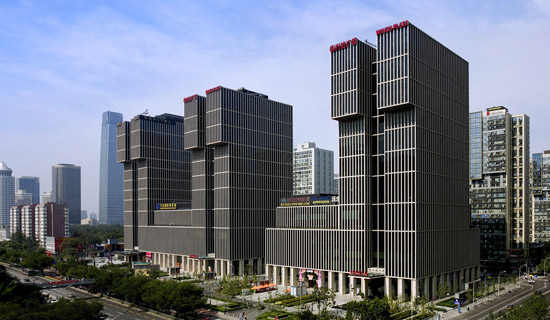 On February 5, 2018 in Beijing, Alibaba Group (hereinafter referred to as Alibaba) and the Cultural Investment Holdings Co., Ltd (hereinafter referred to as Cultural Investment Holdings) signed an agreement for strategic investment with Wanda Group. Under the agreement, Alibaba and Cultural Investment Holdings together bought 12.77% shares of Wanda Film held by Wanda Group at a price of RMB 51.96 per share. Alibaba and Cultural Investment Holdings became the second- and third-largest shareholders of Wanda Film, with a total investment of RMB 4.68 billion and RMB 3.12 billion respectively. Wanda Group remains the largest shareholder with 48.09% shares.
Wanda Film was listed on China's A-share market in January 2015. It is the largest theater chain in China, with business divisions that include film projection, film distribution, advertising, and the Mtime online platform and games. In 2017, its revenue reached RMB 13.2 billion. It has more than 100 million VIP members, 516 directly operated theaters and 4,571 screens, covering about 14% of China's film market.
In October 2016, Alibaba officially established Alibaba Culture and Entertainment Group, which covers business divisions such as Alibaba Pictures, Youku, UC, Alibaba Music, Alibaba Literature, Alibaba Games and damai.cn. The Alibaba Pictures platform comprises a complete industry chain, centrally driven by the internet. It covers businesses that include content production, internet advertising and distribution, licensing and general operation of IP, ticketing management for theater chains, and data services. Its Taopiaopiao platform is one of the largest online film ticketing platforms in China.
Cultural Investment Holdings is listed on China's A-share market. Its controlling shareholder, Beijing Cultural Investment & Development Group (hereinafter referred to as Cultural Investment Group), is a state-owned company in Beijing. It is a central investment and funding platform for the capital city's culture and creative industry, established in Beijing––the cultural center of China––with the mission of facilitating the development of the city's culture and creative industry through market-oriented investment and funding. The Cultural Investment Group's investment covers projects such as the Jackie Chan Cinema, Huairou Film Base, and Universal Studios.
All investors will embark on comprehensive and strategic cooperation with Wanda Film, each bringing their respective advantages into play. Alibaba will support Wanda Film's development with big data and an online platform of content, while Cultural Investment Holdings will cooperate in full with Wanda Film regarding such operations as the franchising of theater chains and theater advertising. Cultural Investment Group will use its wealth of land and tourist resources to cooperate with Wanda Group on cultural tourism. All three companies have promised to keep their shares in Wanda Film for at least two years.
Wanda Group stated that the goal in selling Wanda Film shares was to attract shareholders that had strategic value for the company, not merely for raising funds. It believes that the synergy between the two strategic investors and Wanda Film will have long-term benefits for Wanda Film.
...