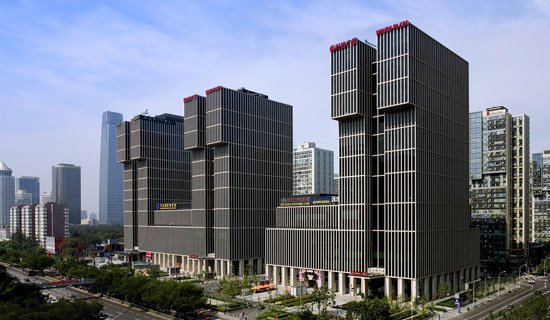 May 30, 2018, Beijing – Dalian Wanda Group, Tencent Holdings Ltd., and Gaopeng today announced that the three parties will launch an Internet technology joint venture (JV) to build a world-class new consumption model that will integrate both online and offline businesses. Among the three companies, the breakdown of the JV's shareholdings is as follows: Wanda Group's Wanda Commercial Management Group (51%), Tencent (42.48%), and Gaopeng (6.52%). Qi Jie, President of Wanda Commercial Management Group, will serve as chairman of the new JV while Gao Xia, CEO of Gaopeng, will act as CEO, as recommended by Tencent.
Ffan and other parts of Wanda Internet Technology Company's business will be injected into the new JV. Tencent will provide the JV with additional resources, including access to online traffic, while Gaopeng will integrate businesses, such as electronic invoicing, into the JV.
The partnership aims to leverage high-quality resources from all three companies. First, there will be a comprehensive digital upgrade of Wanda commercial centers' offline scenarios, transforming them into smart shopping malls and stores and closely connecting the commercial centers, stores, and consumers, and forming a trinity of "super shopping guides," "super store managers," and "super members." This will boost the efficiency of the commercial centers and improve consumers' shopping experiences. Second, the three parties are committed to jointly building an ecosystem for new consumption by actively exploring opportunities in the large market and for future growth.
For Wanda Plazas, the cooperation will bring in enormous online traffic through WeChat and other platforms, enabling the Plazas to undergo smart upgrades, build a robust membership system, and increase the company's overall value. The cooperation will offer Tencent access to huge volumes of offline traffic and varied consumption scenarios, directing its online traffic and technology into these offline resources and accelerating the implementation of Tencent's smart retail strategy. The partnership will also bring vast traffic to Gaopeng's business, elevating its status as a leader in its field.
As one of the pillar divisions of Dalian Wanda Group, Wanda Commercial Management Group is the world's largest brick and mortar commercial entity. As of the end of 2017, the Group had 235 Wanda Plazas in operation with a total retail space of 31.51 million square meters and annual customer traffic of 3.19 billion visits. In addition, Wanda Group owns diverse offline consumption scenarios, including cultural tourism cities, hotels, movie theaters and children's entertainment.
Tencent is a leading Internet value-added services provider in China, operating the largest social communications platform in the country. Leveraging its strong social communications platform and big data technology, Tencent provides users with diversified digital content and helps advertisers reach out to hundreds of millions of consumers in China.
Gaopeng is a Tencent-invested company that has its businesses running throughout Tencent's ecosystem. As a leading player in the electronic invoice business, Gaopeng has helped to design and build up a large ecosystem for the Chinese e-invoicing industry, providing e-invoice services and industry solutions.
...