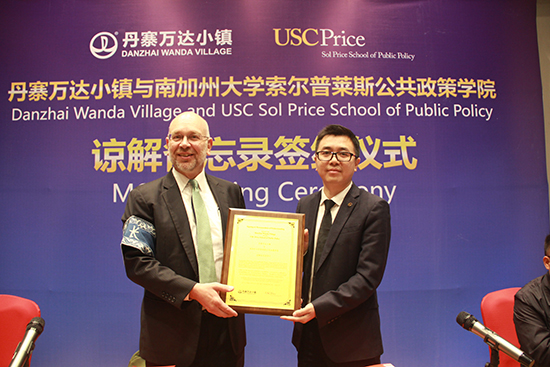 DANZHAI, China, June 2nd, 2018 --- University of Southern California is approaching Dalian Wanda Group's poverty alleviation program in Southwest China's Guizhou Province for a case study.
The Danzhai Wanda Village (the Wanda Village), and the University of Southern California on behalf of the Sol Price School of Public Policy (the USC Price School) today signed a memorandum of understanding (MoU). The Wanda Village, Dalian Wanda Group's flag-ship CSR program, and the USC Price School, the second-highest ranked public policy school in the U.S., will actively explore the potential for a broader partnership, including using the Wanda Village as a host location for a USC Price School International Lab to conduct research on poverty alleviation.
The two sides will also explore the potential to conduct USC Price School faculty-led scholarly research on poverty alleviation in a global context, using the Wanda Village as a case study. The Wanda Village will invite the USC Price School to provide a rigorous assessment of the effectiveness of the project, and to offer constructive and practical advice for enhancing the effectiveness of Wanda's future poverty alleviation initiatives.
Professor Eric J. Heikkila, Director of the USC Price School's Office of Global Engagement, said: "Three years ago, the United Nations enumerated seventeen Sustainable De-velopment Goals as benchmarks for global progress towards improving people's lives. The #1 SDG pertains to poverty alleviation, with a view to eliminating poverty by the year 2030. Such an ambitious but worthy goal cannot be met by governments acting alone. This collaborative effort between Wanda Group and the USC Price School of Public Policy is an example of how the private and academic sectors can contribute to the effort in a meaningful way, drawing upon their unique set of talents and resources."
Chen Wanyong, General Manager of the Wanda Village, said: "We are very glad to have this opportunity to work with a world-class research institution on poverty alleviation, and we will actively explore the potential to have further collaborations with the USC Price School of Public Policy. We welcome advice and insights from the USC Price School of Public Policy to help enhance our capability and effectiveness in poverty alleviation and bring a better life to the people in Danzhai. We look forward to working with the students and faculty members from the USC."
Danzhai Wanda Village is located in Danzhai County, Qiandongnan Prefecture, southwest China's Guizhou Province. It is Wanda's pioneering project of targeted poverty alleviation, in which a company is responsible for lifting a whole county out of poverty. Wanda Group donated RMB 800 million to build this Miao-style village. Wanda's initiative in Danzhai also includes a RMB 300 million donation to build a vocational school and a RMB 500 million poverty alleviation fund.
ABOUT USC SOL PRICE SCHOOL OF PUBLIC POLICY
Founded in 1929, USC Sol Price School of Public Policy is one of the most distinguished and highly regarded schools of its kind in the United States. It embraces six independent yet related academic areas - public administration, public policy, health policy and admin-istration, urban planning, real estate development, and nonprofits/philanthropy. Nation-wide, it was ranked 2nd overall among 272 schools of public affairs in the 2018 U.S. News & World Report. USC Price School of Public Policy faculty routinely put their knowledge into action. Currently, the School has 70 full-time professors and over 200 adjunct faculty members. These...