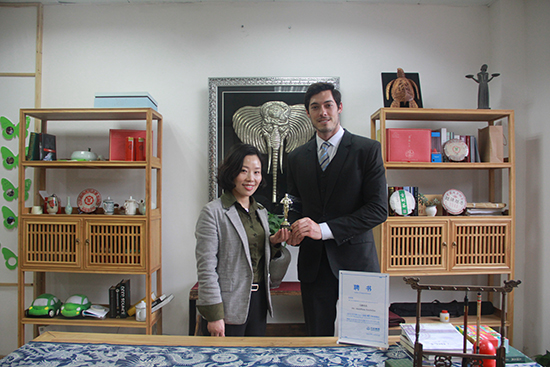 Mr. Matthew Knowles receives letter of appointment from Danzhai County Deputy Executive Huang Qi.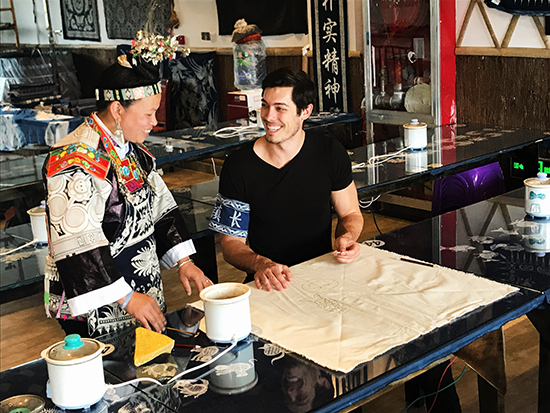 Mr. Matthew Knowles learns from Miao Batik-making inheritor Mrs. Yang'er Baolang.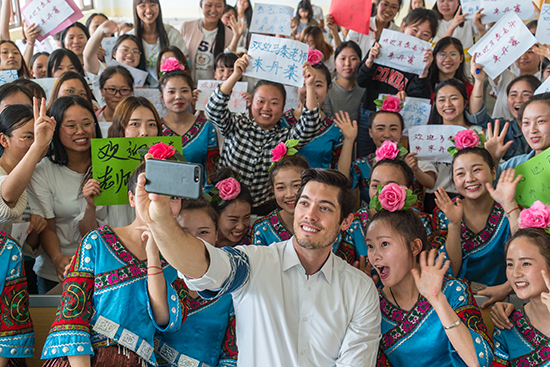 Students enjoy a wonderful and meaningful afternoon with the new "rotating mayor".DANZHAI, China, June 6th, 2018 --- Matthew Knowles, a Hollywood actor, recently visited Danzhai Wanda Village and acted as its 40th Rotating Mayor. It was the first time that a Hollywood actor had participated in the Danzhai poverty alleviation program.
Matthew Knowles became popular in China for his work in a number of Chinese films including Deng Xiao Ping at History's Crossroad and Red Star Over China. At his inaugura-tion ceremony, Matthew said, "I am delighted to come back to Guizhou, which I warmly view as my second hometown. 10 years ago, when I was a volunteer English teacher, I was delighted to make a small contribution to local education. Today, I am very impressed by Wanda's unique model for poverty alleviation under which the Group launched a countywide poverty relief program in Danzhai to push forward enterprise-led, targeted poverty relief efforts. This has since emerged as a highly innovative approach to reducing poverty and clearly demonstrates Wanda's long-term commitment and resolve to improving people's lives. I am hugely honored to have been invited by Wanda to serve as Danzhai's Rotating Mayor and I hope to help ignite the dreams of local kids and promote Danzhai to the world through my visit."
During his stint as mayor, Matthew visited Guizhou Wanda Vocational College where he delivered a lecture to local students. During his talk, Matthew recalled his days as a volun-teer English teacher in Guizhou, and also shared his experiences in Hollywood. His time in the classroom marked a welcome return for him to his old profession as a teacher. He taught students English by creatively using lines from the upcoming Asura, China's first $100 million fantasy film in which Matthew plays a role, and also gave them an acting tuto-rial. Students were split into different groups and conducted roleplays with selective clips of Asura. In the review session, Matthew encouraged students to aim high and fearlessly pursue their dreams, sharing his own experiences in how to build a successful career. The students were very excited to participate in these activities and were greatly inspired by Matthew's words. In order to have greater interactions with the students, Matthew took them out to the football field where they played American football together, creating an unforgettable experience for these kids since it marked the first time that they had the opportunity to interact with an international film star.
Following the inauguration, Matthew participated in a range of activities around Danzhai. For instance, he visited the homes of local farmers and learned skills in Batik-making and tea-making, and was very impressed by these unique handicrafts and delicacies. He immediately decided to bring some tea for his friends abroad so that they can also taste the Danzhai delicacy. Later on, Matthew joined local residents at a bonfire party where he learned the Pheasant Dance and Miao Song. In addition, Matthew also had the unexpected pleasure of being reunited with one of his students whom he had taught a decade ago. The student now works at Wanda Commercial Group, where he is dedicated to the Danzhai project, and he was overjoyed to see his former teacher.
Through his deep-dive into such local experiences, Matthew became a quick fan of Miao culture and cuisine. He was...