Wanda to Invest an Additional 45 billion Yuan in Gansu in the Next 3 Years
12.04.2019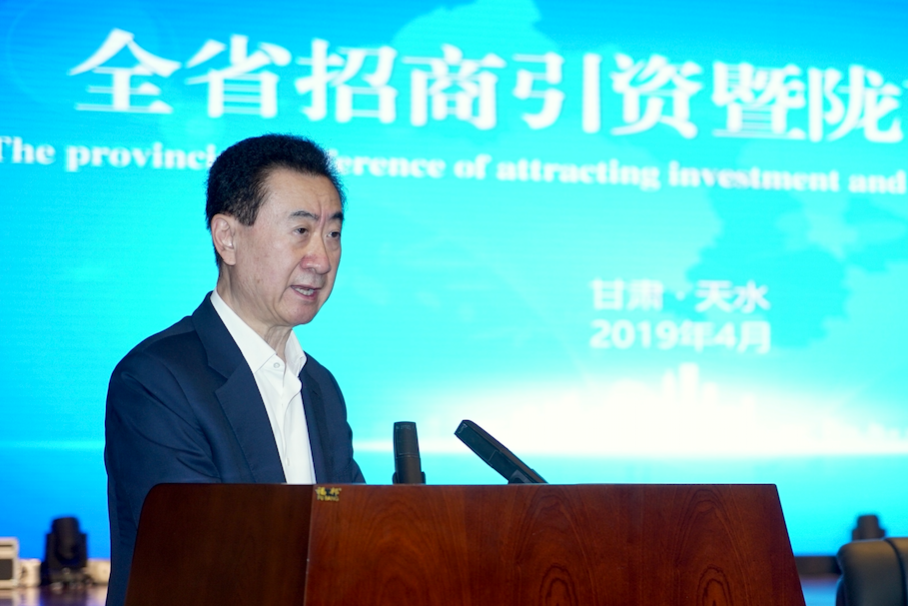 Distinguished Party Secretary Lin Duo and Governor Tang Renjian, Dear leaders and guests,
It's my great pleasure to attend today's meeting. On behalf of Wanda Group, one of the largest investors in Gansu Province, I would like to extend warm congratulations on the opening of the Gansu Investment Promotion Conference. I wish this conference a complete success!
In October 2017, Gansu signed a strategic cooperation agreement with Wanda Group, making Gansu one of the key provinces for Wanda's investments. In the past one and a half years since the signing of the agreement, with the cooperation of governments at all levels as well as relevant departments in Gansu, we have completed the investment in six Wanda Plazas and one five-star hotel. Wanda has accumulatively invested 18 billion yuan and created 30,000 new jobs in the province. In the next three years, Wanda will invest an additional 45 billion yuan in mega cultural tourism projects, five Wanda Plazas and three five-star hotels here.
Wanda's investments in Gansu are focused on cultural tourism and modern services, which will enhance the consumption environment in an all-round manner and upgrade the modern service industry of Gansu. Investment in Wanda Plazas has basically covered major cities of the whole province, putting an end to the absence of high-level business facilities. We have greatly promoted the commercial prosperity in these areas, boosted consumption level of the citizens, substantially increased tax revenues for local governments, and created stable jobs in the service industry. Now the governments, businesses and citizens are all satisfied with what we've achieved. With a total investment of about 30 billion yuan, the Lanzhou Wanda City is Wanda's first mega cultural tourism project along the Silk Road. With the best of Wanda's innovation in the cultural tourism sector, this project will become a new business card of Gansu as a rising power of cultural tourism.
The major reason for Wanda large-scale investment in Gansu is that the company is optimistic about the province's development. With a long history and rich culture, Gansu is an important birthplace of the Chinese nation and civilization. Gansu covers 1/4 of the entire Silk Road and half of the Silk Road within Chinese border. It also boasts exclusive historical and cultural resources in China. The launch of the Belt and Road Initiative makes the remote province a major junction and window of China's reform and opening up. The construction of the golden corridor of the Silk Road Economic Belt makes Gansu a new and popular target for investors from home and abroad. To invest in Gansu is to seize the historical opportunity of the Belt and Road Initiative. It will create broad space for the development of enterprises.
Gansu also boasts an excellent soft environment for investment. When companies look around to find the next place to invest, they examine not only the hard environment, but also, and more importantly, the soft environment. As Wanda invests in Gansu, we've met leaders of government departments at all levels. No matter the provincial government, local governments, or various functional departments, we've seen for ourselves how clean, upright, energetic and efficient they are. They have been vigorously promoting the implementation of the projects. As businesspeople, we feel in an atmosphere of respect, amity, prosperity, and security. The smooth progress of Wanda-invested projects and the nice returns of the completed ones have greatly enhanced our confidence in continuing to invest in Gansu.
Investment in impoverished areas is another form of poverty alleviation. Industrial investment can drive economic development, increase tax revenue, create jobs and raise people's income in poor areas. Gansu is an old revolutionary base with relatively backward economic development. We are faced with daunting tasks in the final phase of the war against poverty. Wanda Group's investment in Gansu is also an active response to the call of General Secretary Xi Jinping on poverty alleviation, as well as an initiative to honor our corporate social responsibility.
The Gansu Provincial Party Committee and Government, especially Party Secretary Lin Duo and Governor Tang Renjian, have always shown great care for Wanda's development in Gansu. They have asked about the progress of Wanda projects for many times despite their tight schedule. Here I'd like to express my sincere gratitude for that! Wanda will work closely with relevant cities to speed up all our projects, for which we will seek earlier implementation and earlier opening of business. We are fully committed to making greater contributions to the development of Gansu Province.
Thank you very much!