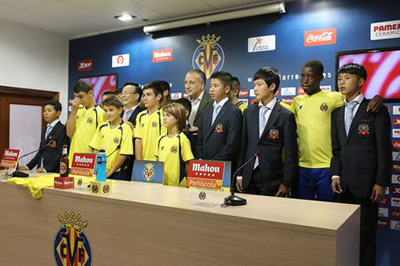 With the 2018 FIFA World Cup fast approaching, a number of Chinese teenagers trained under Wanda Group's "China Future Football Star Program" will enjoy another opportunity to interact closely with global football stars. From June 17th to July 11th, they will act as "little flag bearers" during 10 matches of the 2018 World Cup.
In 2011, Wanda set aside RMB 600 million for the "China's Future Football Star" program. Under the program, 30 outstanding young football stars have been sent to Spain every year. The first three batches of young athletes were sent to Atletico de Madrid, Valencia Football Club and Villarreal Football Club for three years of training. In 2014, the program was extended to six years to provide a longer-term plan and guarantee for their career development.
In 2017, more than 3,000 young players applied for the opportunity to become one of the 20 young athletes that will be sent to Spain. By the end of May 2017, Wanda had selected six batches with a total of 200 young football players who were sent to Spain for free training and the opportunity to participate in matches. As a result of the high-quality training received in Spain, the young players matured rapidly. When they first joined, most players only qualified for the second and third reserve teams in their age category, but, after finishing the program, 10% of the players have now reached the level where they are being selected for the first team while 25% qualified for the second team.
Over the years, "China's Future Football Star" has become one of the most important young athletes' training programs in China. As a company which has participated in Chinese football reforms from the very beginning, Wanda recognizes the important role played by youth training in the development of China's football industry. As Chairman Wang Jianlin put it, "Cultivating young football athletes is the foundation of the sport, and only a solid foundation in young talent can secure a brighter future for Chinese football."