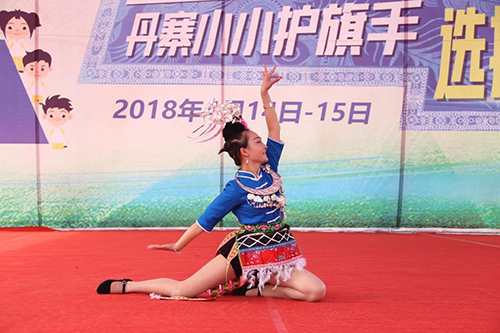 The finals of flag-bearer selection for World Cup Russia 2018 were held at the Golden Pheasant Square in Danzhai's Wanda Town in April 14-15, 2018. Altogether 3,870 children from Danzhai participated in the selection and more than 150 students made it to the finals after rounds of competition, and eventually six of them won the opportunity to World Cup Russia 2018.
The news of flag-bearer selection made a huge sensation in Danzhai, and over 1,000 local residents, students, teachers and tourists witnessed this event.
During the selection, Danzhai girl Wang Meilun left deep impression on the judges and audience. She sang the song of World Cup 2014 in fluent English and answered the host's and judges' questions in English too. In addition to musical instrument performance, speech and demonstration of local intangible cultural heritage, some students put on a play based on their fathers' story of protecting the country, which was highly praised by the judges and audience. One participant said he used to be very shy, but Wanda has brought great changes to the small town and also given him more opportunities to express himself. FIFA World Cup Russia is just around the corner, and we look forward to their performance at the opening game.