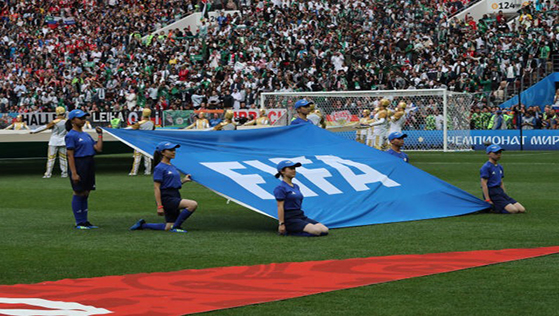 The Luzhniki Stadium, which can accommodate 800,000 people, became the focus of the world on June 14th. People across the world had their eyes fixed to television screens to catch the kick-off of the 2018 FIFA World Cup in Russia.
The opening match saw six boys and girls from Danzhai County of Qiandongnan Miao and Dong Autonomous Prefecture in China's Guizhou Province carry the official FIFA Flag onto the pitch during the pre-game line-up ceremony for host Russia and Saudi Arabia. They are the first Chinese youth who have ever carried a FIFA World Cup flag.
The FIFA World Cup Flag Bearer program introduced by Wanda Group has provided the opportunity to make these Danzhai young people's dreams come true. According to Liu Mingsheng, chief chairman assistant of Wanda Group, the FIFA World Cup Flag Bearer Program is one of the exclusive rights granted to Wanda by FIFA. Danzhai County has been Wanda Group's target of "one enterprise responsible for the overall poverty alleviation of one county" since 2014. As a result, when it came to selecting candidates, Wanda Group first thought of the children in Danzhai.
The selection for FIFA World Cup flag bearers from Danzhai were held from April 14th to 15th at the Pheasant Square in Danzhai Wanda Village of Danzhai County. Altogether 3,870 teenagers participated in the selection. The candidates who stood out from both the talent show and lecture competition became the flag bearers. More than 150 students made it to the finals after rounds of competition, and eventually six of them won the opportunity to World Cup Russia 2018.
It is such a rare opportunity for children from poverty-stricken areas to stand on the stage of the FIFA World Cup and this is the first time ever in the event's history to have Chinese children as flag bearers. I believe the destiny of these six little flag bearers has been changed in a very meaningful way," said Mr. Liu Mingsheng.