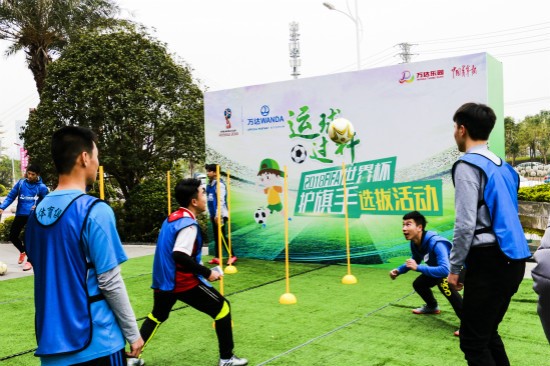 On January 14th, the Selection of Flag Bearers at the 2018 FIFA World Cup in Nanning was kicked off in Nanning Wanda Theme Park, sponsored by FIFA and Wanda Group, undertaken by Wanda Theme Entertainment and China Youth Daily and supported by Chinese football schools and the Organizing Committee of the National Youth Football Tournament.
Since the occasion was launched on December 15th, 2017, a total of 2,627 teenagers across China have enrolled for competition. The organizing committee finalized over 600 candidates considering their votes and qualifications, and 108 among them had their preliminary contest in Nanning.
During the event, young players were grouped by age into 6 groups (18 players each) to participate in events such as "Say hi to football, 5-minute rope skipping, 1-minute juggling, ball control and pass-through, and football knowledge quiz." The events were aimed to gain insights into their qualities in areas such as win-win cooperation, fair competition, decisive decision-making and self-confidence through a series of tests on their football skills, mutual cooperation and comprehensive quality.
6 excellent candidates stood out after the series of competitions and tests, and they will compete for 12 places in the Flag Bearers at the 2018 FIFA World Cup on behalf of the Nanning Competition Area with other successful candidates across China in the final round held in Nanchang Wanda Theme Park.
In addition, there were also diverse interactive experience activities customized for cheering squads, audiences and players, creating a World Cup-like atmosphere.