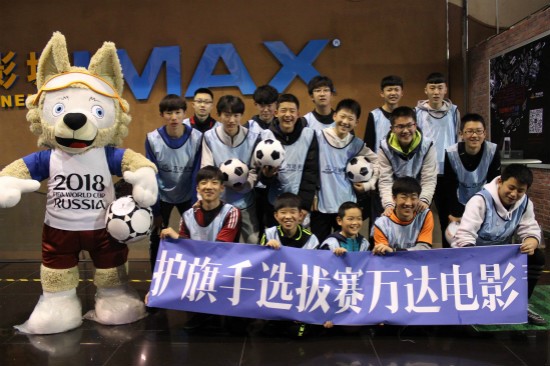 Wanda Cinema's Recruitment of Flag Bearers at the 2018 FIFA World Cup, which lasted for over one month, was recently successfully completed. After rounds of selection in more than 400 Wanda cinemas in 179 cities across China, young football fans standing out from the crowd will participate in the 2018 FIFA World Cup as flag bearers.
Wanda Cinema's Recruitment of Flag Bearers at the 2018 FIFA World Cup, a part of FIFA's youth program, is also one of the exclusive rights of Wanda Group under its sponsorship with FIFA. Authorized by Wanda Group, Wanda cinemas in 179 Chinese cities successfully attracted about 10,000 participants who attended the preliminary contests, quarter finals and final round from February 3rd to March 12th.
Throughout the recruitment, teenagers showed off all of their talents and passion for football in Wanda cinemas. In the quarter finals, they displayed their football skills through interesting PK interaction activities in Wanda cinemas, bringing great surprises to audiences. In the final round, they expressed their passion for the World Cup via wonderful and vivid speeches on football, and fully showed their knowledge about football via football knowledge quizzes. It is worth mentioning that the film imitation in the final round brought the competition to a new high, helping to further fostering the audiences' passion for film.
In supporting this occasion, Wanda cinemas also attracted enthusiasm from offline groups, and it further strengthened Wanda Cinema's image as a brand popular among Chinese youth. During the World Cup, Wanda Cinema will bring movie fans more football-themed activities.