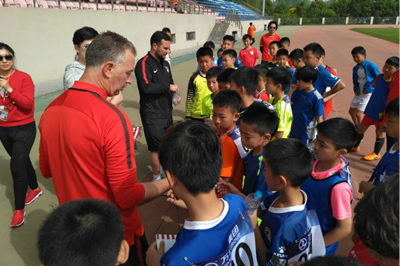 From April 28th to May 2nd, Wanda Group initiated the selection for the 7th batch of future football stars who will head to Spain to receive a series of trainings. Youth training experts from Atlético Madrid, Villarreal Football Club and Real Sociedad participated in the selection and held in high regard these young football players and their great potential.
In order to expand the talent pool, Wanda has been co-operating with sports bureaus and football associations at the provincial level to build up a local talent pool for football and provide professional training to these teenagers, with the aim of equipping them with the knowledge and skills of professional football players.
Before departing for Spain, selected players will conduct various pre-training activities including Spanish language learning and psychological consultations to help them settle easily into local life and culture. In Spain, they will be able to fully immerse themselves in authentic Spanish football culture and receive training alongside other young Spanish players.
This training model has achieved remarkable success. Some young players have already returned to China and joined top-tier clubs to contribute to the development of Chinese football. In the National Games last year, several former Wanda trainees helped the Guangdong team make it all the way to the final. It is expected that expanding the number of young football players trained under this model will showcase their talent on the world stage and drive forward the development of Chinese football in the future.