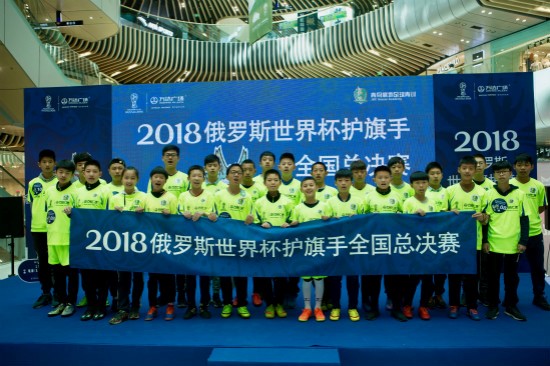 On April 14th, the final competition of the Flag Bearer Selection for 2018 FIFA World Cup, organized by Wanda Commercial Management Group, was held in Beijing Fengke Wanda Plaza. The selection activity ran for a whole month and attracted the participation of thousands of teenagers nationwide. Following voting on mini-programs and rematches in 32 regions, the top-ranked players in their respective regions entered the final.
In the final session, six teenagers won the final prize after three-round competitions including a Q&A session, lobbying to win endorsements as well as penalty kicks. This June, the six flag bearers will head to Russia and showcase the China's young generation on the global stage. In addition, Wanda Kidsplace Park also organized a four-day selection event in February in Nanchang, Hefei and Harbin in which 12 teenagers stood out as "little flag bearers" and earned the opportunity to witness the 2018 FIFA World Cup in person.
The selection programs for the Little Flag Bearers for the 2018 FIFA World Cup create a platform for Chinese youth to stand on a global stage and showcase their versatility in front of international audiences. Competition sessions during the selections also raised awareness among teenagers about their all-round development and aspired them to aim high in the sport of football.