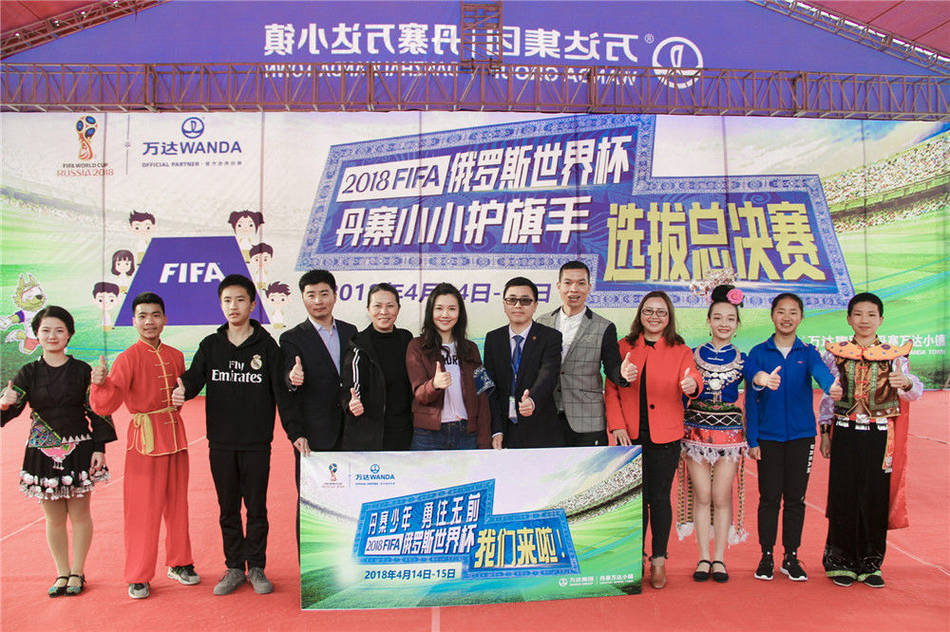 From April 14th to April 15th, a final competition for the "Little Flag Bearers for 2018 FIFA World Cup" was held in Danzhai Wanda Village. More than 150 students from 5 middle schools in Danzhai attended the competition, which featured speeches, talent shows as well as Q&A sessions. Among the participants, six students stood out from the competition. Ms. Liu Yuxi, a well-known hostess and the 33rd "Rotating Mayor" in Danzhai Wanda Village announced the final winners and will provide them with a series of trainings to prepare for the upcoming 2018 FIFA World Cup. This June, the students will head to Russia where they will act as flag bearers in the opening game of the 2018 FIFA World Cup.
As a top partner and sponsor of the 2018 FIFA World Cup, Wanda Group is entitled to exclusive rights in recruiting flag bearers for the FIFA World Cup. Aiming to broaden the horizons of children from remote areas, Wanda gave the highly coveted six places for flag bearers in the opening day of the 2018 FIFA World Cup to students from Danzhai. The selected students are very excited about their upcoming trip to Russia, which will give them an opportunity to connect with young people on the global stage and showcase their talents and spirit to international audiences.
Danzhai Wanda Village is located in Danzhai County, Qiandongnan Prefecture in Guizhou Province. It is Wanda's pioneering project for targeted poverty alleviation in Danzhai County. Wanda Group has donated RMB 700 million to build the Miao-style village, spanning 1.5km along the beautiful Dong Lake and featuring 30 unique Danzhai Cultural Heritage projects, Miao handicrafts, Miao delicacies and Miao medicinal products. In addition to these established programs, Wanda Group is making every effort to introduce more innovative programs to Danzhai and improve local people's livelihoods. These poverty alleviation efforts have greatly benefited local children since their parents can now work and live in their hometown instead of having to seek job opportunities outside Danzhai, helping to address the issue of left-behind children in rural areas.
The flag bearers' selection program demonstrates Wanda's commitment to stimulating Danzhai's development and connecting Danzhai with the international community. In the future, Wanda Group will continue to promote Danzhai on the global stage, and encourage more talent from Danzhai to participate in international events and build up their global perspective.