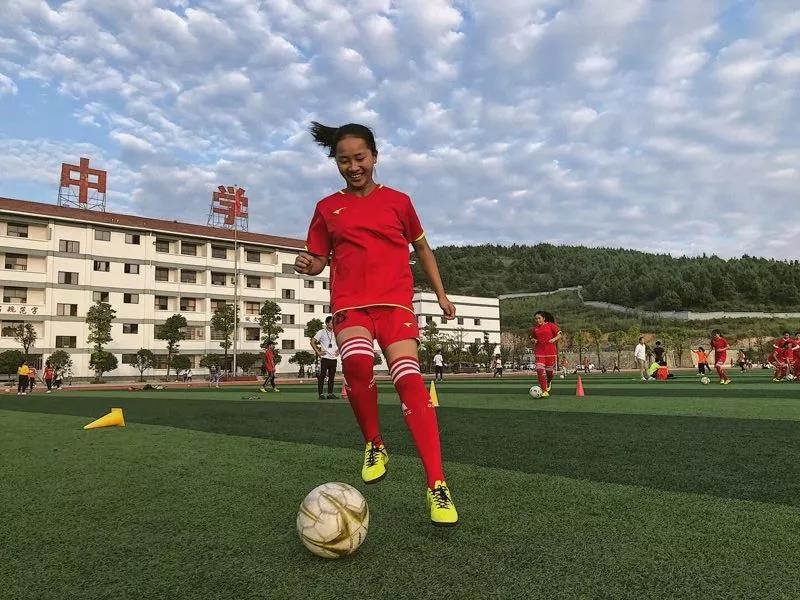 2018 Russia FIFA World Cup kicked off on June 14th. Six little flag bearers from Danzhai County of Qiandongnan Miao and Dong Automonous Prefecture in Guizhou Province of China has become the first Chinese flag bearers in FIFA World Cup's history, among which is Mo Qiu, as student from Danzhai No. 2 Middle School,who never expected she would be one of the flag bearers at the 2018 FIFA World Cup and be the first one to walk across the lawn of the Luzhniki Olympic Stadium.
"I feel like dreaming," Mo Qiu says, she did think about attending FIFA World Cup one day as a football fan but has never imagined that she can not only participate but actually stand on the football field with the football teams. In her view, the unique charm of football is about team spirit and tests of endurance. When exercising with team members in the rain, she suffered an ankle ligament injury. After a one-month rest and recovery from the injury, she devoted herself to the strenuous exercise again. "This is the charm of football. It's worth the struggle, and I will carry on."
Mo Qiu is a Miao girl with outstanding performance at school. Her academic performance ranks the top of her grade and has a good talent in sports. She is a member of both the school team of basketball and football.
"I like football. It's like my best friend." Mo Qiu expressed her simple ambitious, "I really wish I could walk out of the mountains and see how wonderful the outside world is."
As a girl who plays football everyday after school, her dream on the stage of the World Cup is to play on the football field where the actual World Cup matches will take place. "I want to feel if there's any difference between the football field of my school and that of the World Cup."
Besides fulfilling her tasks as a flag bearer, Mo Qiu would also like to take the opportunity to show Miao culture to the world, so she brought with her Miao clothes and some special gifts. The Miao clothes are heavy. After dressed in the Miao clothes for 12 hours, red marks appeared on her shoulders, but she thinks it's really nothing comparing with showing her nation's culture to the world.
The 14-year-old girl said excitedly to the reporter, "I have been longing to travel outside of the mountainous region, and have a look at the world outside. Walking into Russian stadiums, I want to demonstrate the spirit of Danzhai to the entire world!"