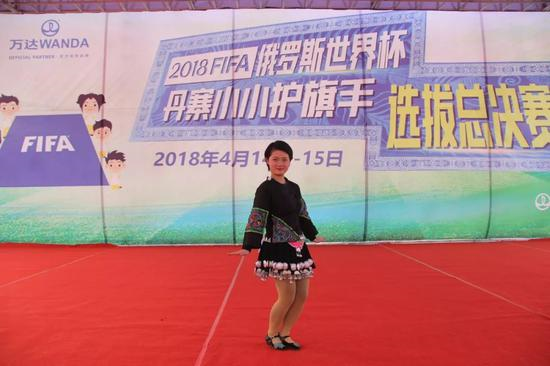 Wang Meilun is one of the Danzhai little flag bearers at the curtain raiser match of the 2018 Russia FIFA World Cup. She is a student at High School of Guiyang Attached to Beijing Normal University. It opens another door for Wang Meilun to travel from Guiyang to Beijing and from Beijing to Moscow.
"My story with football seemed to start before I was even born. My mom was eight months pregnant with me during the World Cup 2002, and she told me that when she watched the football games, I was kicking in her stomach."
Wang Meilun was not even 4 years old during the 2006 FIFA World Cup. She knew nothing about football and the FIFA World Cup but was very curious about it after seeing how excited people were to stay up late watching the game. Since then, with the help of her grandfather, she gradually learned about the rules of football and FIFA World Cup.
Going to school in Guiyang, Wang Meilun doesn't have the opportunity to see her family in Danzhai often. When her family heard the good news that she will be a flag bearer to Russia, her family greatly encouraged her over the phone. Her grandfather, a senior football ban, couldn't believe it at all and even asked "Is this true? Will I really see you on TV?" Wang Meilun said her family will wait for her and watch her on TV during the opening ceremony.
"I'm very excited to participate as a World Cup flag bearer at the opening match on behalf of all the young people from Danzhai and China. When I'm in Russia, I hope to make good use of my English to introduce my hometown Danzhai to global tourists, and tell them about our Batik making, ancient paper making technique and nongx yangx, the most important traditional festival of the Miao ethnic group. I also prepared a box of postcards printed with Danzhai scenery for Russian friends."
"I will do my best during the opening ceremony to show the world how great Chinese young people are and to let more people know about Danzhai. We are proud of our country and proud of Danzhai."