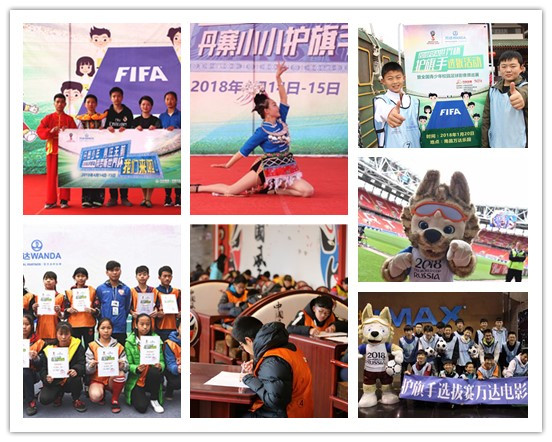 Participation in the FIFA World Cup Flag Bearer Program is one of the exclusive rights granted to Wanda Group by FIFA. As the only top-level sponsor of FIFA in China, Wanda Group has recruited 384 teenagers from the ages of 12 to 17 years old worldwide to act as FIFA flag bearers. In June and July, they will help escort the FIFA flag to the World Cup stadiums. It is worth mentioning that six flag bearers from Danzhai Wanda Village will also go to Russia for the World Cup.
Wanda Group allocated its flag-bearer ticket quota across a number of its business units, including Wanda Park, Wanda Plaza, Wanda Film, Wanda Hotel, and more. The number of applicants exceeded 20,000. For teenagers who love football, serving as a flag-bearer not only provides them with the opportunity to personally participate in a leading international event but also the chance to interact with teenagers from other countries and showcase the talent and spirit of Chinese youth.
In 2016, Wanda Group became a FIFA Partner, which means that Wanda will participate in all FIFA events, including four World Cups, until 2030. Other rights enjoyed by Wanda include permission to use the official FIFA logo and display the Wanda logo in all FIFA stadium venues and official publications as well as its website. The upcoming 2018 World Cup in Russia will be the first World Cup for Wanda Group after it first became a sponsor.