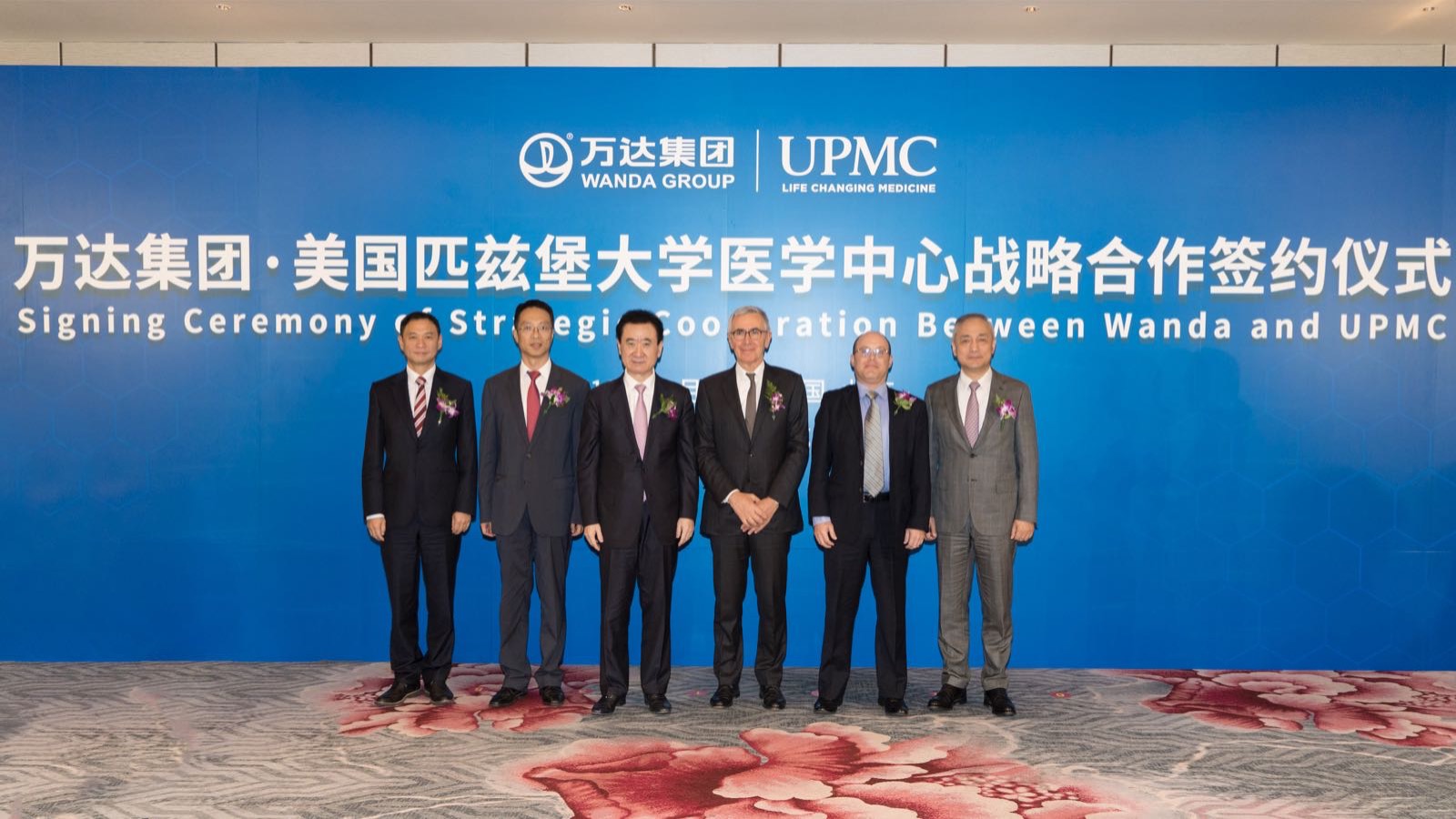 On September 30th, Wanda Group and University of Pittsburg Medical Center (UPMC) signed a strategic cooperation agreement in Beijing. Both sides will jointly run world-class international hospitals in China. The cooperation will comprehensively bring in UPMC's hospital brand, hospital management, medical technologies, medical care and service systems. This is the first time that a top international hospital comes the China. Mr. Wang Jianlin, the Chairman of Wanda Group attended the signing ceremony with Dr. Bruno Gridelli, Executive Vice President of UPMC International and Mr. Jeffrey Bernstein, Vice President, UPMC International and Country Manager of China.
The first batch of five international hospitals jointly run by Wanda Group and UPMC will be located in China's first-tier cities such as Beijing, Shanghai and Chengdu. The Chengdu project has entered the design phase after it obtained land permit.
UPMC was founded in 1893 with total operating revenue of $19 billion. It is one of the world's best known research medical centers. UPMC integrates more than 40 hospitals and a 3.4 million-member insurance division. UPMC has world-renowned specialties in transplantation, cancer, neurosurgery, cardiology and other services. Over 40 years, it has built organ transplant centers, cancer hospitals and research bases in Italy and Ireland. It has rich international cooperation and hospital management experiences.
Wanda Group is the largest real estate company in the world. It is also the world's biggest film company and the biggest children's entertainment company. In addition, Wanda is one of the biggest sports and travel companies in China.
The jointly run hospitals will be named Wanda UPMC International Hospital. The construction and operations will follow the Joint Commission International (JCI) standards. UPMC will send top-notch hospital management team and core medical staff to jointly manage and operate the hospitals. UPMC will bring with it the best medical technologies, best practices and management concepts to China and offer the patients advanced health care services, and high-quality and efficient care.
Under the guidance of "Healthy China 2030" policy, the Chinese health care market will see rapid development and there is huge room for growth. The country's high-end health care sector in particular will witness explosive growth. Both sides will take full advantage of each other's strong suit and build an excellent medical system, forging the most competitive and influential hospital brand in China.