Wanda's Danzhai Poverty Alleviation Model Draws International Attention
08.04.2018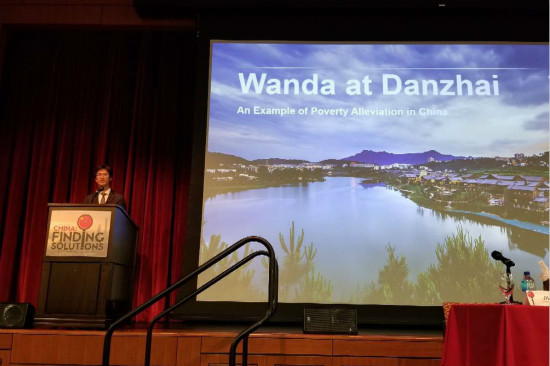 On April 6th, Wanda Group was invited to attend an annual summit in Los Angeles hosted by the USC U.S.-China Institute to introduce Wanda's poverty alleviation model for Danzhai County in the southwestern province of Guizhou and its operating experience. The speech was highly praised by attendees.
Running under the theme of "China: Finding Solutions," the summit provides a platform for discussing the challenges that China is contending with in its development and the solutions being adopted. More than 200 leading experts from UNDP, Yale University, Stanford University, and many other renowned institutions, attended the summit. Wanda was invited to share its experiences at the summit after the success of its poverty alleviation model in Danzhai has been watched closely by the global community over the past year.
The Wanda representative delivered a presentation on the Group's innovative "One Enterprise Responsible for One County" poverty alleviation model, revolving around the Wanda-Danzhai Special Poverty Alleviation Fund, Danzhai Wanda Village, and Vocational College, which respectively represent the overall project's short, medium, and long-term strategies.
In addition, he also introduced the project's "Rotating Mayor" program, which has created an innovative approach to brand marketing for the Danzhai poverty alleviation model. Participants highly commended the model, particularly the role of the "rotating mayors" in raising awareness about Danzhai and boosting regional tourism. Attendees from Yale University and the USC Price School of Public Policy expressed interest in visiting Danzhai. Eric Heikkila, a professor at USC Price as well as the Director of its Office of Global Engagement, accepted Wanda's invitation to visit Danzhai as a "rotating mayor."
"It's great that Wanda is using its resources to help people," said Clayton Dube, director of the USC U.S.-China Institute. "We were delighted to have Wanda present its effort to improve the livelihood of the people at Danzhai. The audience was quite interested and many people were anxious to learn more."
Website Index
About Wanda

Core Industries

CSR
Media Room

Wanda Worldwide
Address: Tower B, Wanda Plaza, No. 93 Jianguo Road, Chaoyang District, Beijing Tel.: 010-85853888