Wanda Wins the 10th China Charity Award
17.09.2018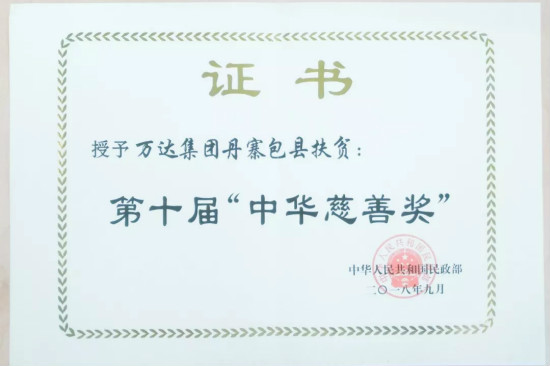 Wanda's Targeted Poverty Alleviation Program in Danzhai won the 10th China Charity Award. The Award Ceremony was held in Beijing on September 13th.
Founded in 2005, the China Charity Award is the highest government award in the field of Charity in China. Wanda has won the title 9 times in 10 years, setting a record in winning the prize.
Wanda devoted 2.1 billion yuan to its Package Poverty Alleviation Program in Danzhai County, aiming to get the entire national-level poverty-stricken county in Guizhou Province out of poverty. The Program contains three components: the Danzhai Wanda Village, Guizhou Wanda Vocational College and Wanda-Danzhai Special Poverty Alleviation Fund. The program has tourism at its core and forms an innovative model that integrates occupational education, cultural tourism and poverty alleviation fund. The program addresses immediate needs of the local population as well as mid-term and long-term development goals of the region.
Danzhai Wanda Village has attracted more than 5.5 million visits since its opening a year ago; that's 6 times the volume in 2016. The overall revenue generated by tourism in Danzhai reached 2.43 billion yuan, more than 4 times the number in 2016. It has also directly led to an increase in income for over 16,000 locals in Danzhai.
Wanda's mission is to create common prosperity through serving the local community. Over the past 30 years, Wanda has accumulatively donated over 6 billion yuan to charitable causes, making it one of China's largest private donors. Wanda has been engaged in charity since it was founded. Wanda always takes the lead to make donations and was one of the largest donors for Wenchuan Earthquake, Yushu Earthquake, Jiuzhaigou Earthquake and other major natural disasters. Wanda also gives priority to education and poverty alleviation, building hundreds of primary schools, middle schools and universities across the country.
Website Index
About Wanda

Core Industries

CSR
Media Room

Wanda Worldwide
Address: Tower B, Wanda Plaza, No. 93 Jianguo Road, Chaoyang District, Beijing Tel.: 010-85853888