Diverse AIESEC Youth Leadership Delegation from Five Continents Runs "Rotating Mayor" Program for Danzhai Wanda Village
09.02.2018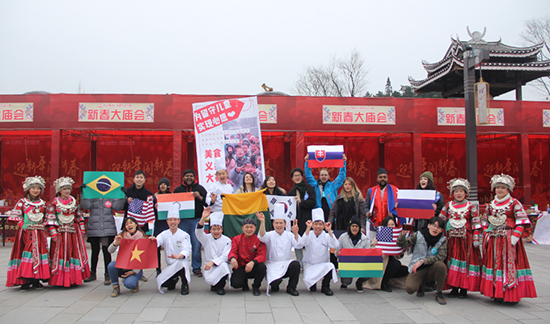 Celebration for Global Food Bazaar for Fund Raising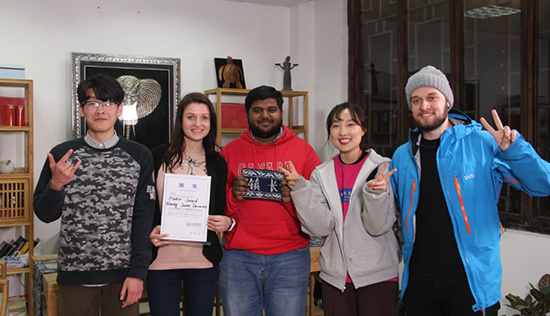 The winning group with the mayor Junaid Khan in the middleDANZHAI, China. Feb. 8th, 2018 – Hailing from 12 different countries, a delegation of 15 young volunteers are currently competing to be selected as the 29th "rotating mayor" of Danzhai Wanda Village, in order to contribute to poverty alleviation efforts to Danzhai County, located in the southwestern Chinese province of Guizhou. The volunteer team's visit marks the first time that such a diverse group of young leadership from all across the world has been assembled in Danzhai to support local development. These mayor candidates participating in the delegation, which was organized by AIESEC (originally an acronym for Association Internationale des étudiants en Sciences économiques et Commerciales), a global platform for young people to explore and develop their leadership potential, come from the U.S., India, Brazil, Vietnam, Mauritius, Lithuania, Slovakia, China, Korea, Nepal, Germany and Russia.
As one of their major activities, the volunteers set up a Global Food Bazaar for Fund Raising to help ensure that local children see their New Year wishes come true. All of the money they made by selling their own countries' food specialties in the bazaar will be used to buy gifts on the local kids' wish lists, such as basketballs, pencil boxes, sneakers, and much more. In addition, each volunteer's sales performance was counted as part of the scoring criteria used for determining the results of the final mayoral election. Marking a creative effort directed towards boosting the well-being of the local community, the food bazaar provided new culinary experiences for tourists while also having a meaningful impact on Danzhai families and the volunteers themselves.
It was critical that the individual selected as the future mayor was very familiar with the village's unique cultural attractions in order to ensure that they were capable of successfully leveraging the vehicle of local tourism to help reduce poverty. All of the volunteers were organized into three groups to compete in six cultural-oriented game challenges to deepen their understanding of local culture. At each challenge's checkpoint, they needed to learn how to make various forms of art work, including Miao Batik, Miao Paper Making, Cala Bird Cage, Golden Pheasant Dance, Wine Mountain, and Guessing Local Food. Eventually, the group B which passed the most challenges was awarded as the best team. However, the students were not only required to expand their own personal knowledge about the village but also to succeed in promoting this information to tourists. To do so, they walked around the streets of Danzhai, brandishing clear "Free Tourist Guide" cards so that visitors could readily recognize them as local guides. Given the rarity of seeing foreigners introducing a Chinese village to Chinese tourists, most of the visitors were surprised to meet with the foreign "tourists guides" and appeared to be quite charmed by the novel experience. For the tourists, their unexpected interactions with student volunteers from 13 different countries proved to be a very special and memorable experience during their holiday.
Following their in-depth immersion in Danzhai's local culture, the volunteers formulated and then presented their mayoral plans in election speeches. Junaid Khan was ultimately elected as the 29th "rotating mayor" due to his lead in the presentation for contributing to "make Danzhai international", in which there are clear target audience categories and comprehensive suggestions in terms of international marketing and tourist management.
Danzhai Wanda Village and its global rotating mayor program aims to help uplift the local community out of poverty. With more than 9877 candidates worldwide applying to its volunteer position so far, the rotating mayor program launched by Wanda Group has already appointed 29 rotating mayors since it kicked off last June. This program is expected to allocate an annual pipeline of 52 mayors, with one new mayor approved every week. The mayors have come from a hugely diverse range of career backgrounds – ranging from business, academia, art, sports, education etc., all have been dedicated to helping Danzhai alleviate local poverty by attracting greater tourism.
Located in the southwestern province of Guizhou, Danzhai County is one of the most undeveloped areas in China. Although endowed with spectacular natural scenery and an incredible diversity of ethnic cultures, Danzhai is a largely unexplored destination for tourists due to its previous inaccessibility. Danzhai Wanda Village is one part of a three-pronged poverty alleviation scheme, backed by a charitable donation of RMB 1.5 billion (about US$220 million) from Wanda Group.
Want to be the next "Mayor" of Danzhai Wanda Village? Find out more here:
Danzhai Wanda Village Rotating Mayor Program(http://wanda.m3ad.cn/wanda_head/en/)