Wanda Group's RMB 1.5 Billion Poverty Alleviation Program Starts Operating in Danzhai
03.07.2017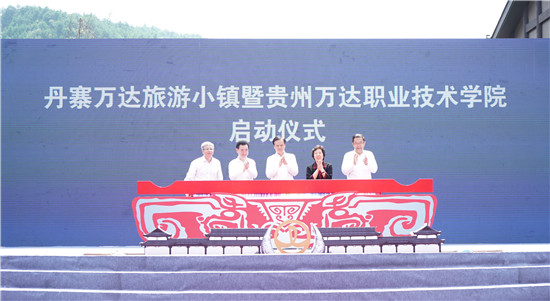 Launch cermeony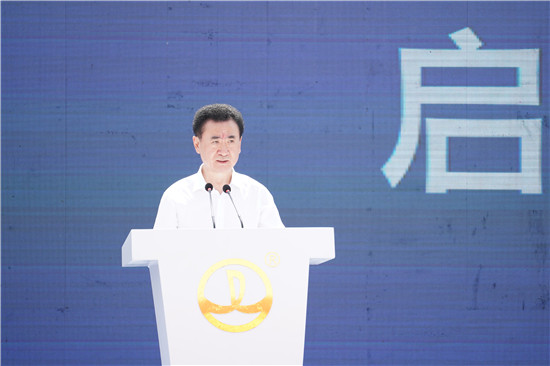 Chairman Wang Jianlin gives a speech at the launch ceremony.
Speech by Chairman Wang Jianlin at the opening ceremony of Danzhai Wanda Village and Wanda Vocational College
Danzhai, Guizhou Province, July 3rd – Dalian Wanda Group's RMB 1.5 billion poverty alleviation program started operating in Danzhai, Guizhou Province, today, in the company's biggest endeavor to lift a whole county out of poverty.
The project, following a model of "one enterprise responsible for an entire county's poverty alleviation," is comprised of an RMB 300 million college, an RMB 700 million tourism village, and an RMB 500 million fund, designed to meet the long, medium, and short term poverty-alleviation demand in this southwestern Chinese county famous for its rich Miao ethnical culture heritages and stunning landscape.
Chen Min'er, Party Secretary of Guizhou Province, Hu Zejun, Auditor General of the National Audit Office of the People's Republic of China, Sun Zhigang, Governor of Guizhou Province, Ou Qingping, Deputy Director of the State Council Leading Group Office of Poverty Alleviation and Development, and Wang Jianlin, Chairman of Wanda Group, attended the opening ceremony.
The innovative poverty alleviation model, based on Wanda's many years of successful experience in reducing poverty and consultations with experts, will help lift Danzhai's income level through a market-orientated approach, leveraging Wanda's strength in the tourism industry and Danzhai's own rich tourism resources. Three years in the making, the project is aimed at leading Danzhai's economic transformation, creating employment, and eradicating poverty from the roots.
The long-term part of the project is the Guizhou Wanda Vocational College. With RMB 300 million donated by Wanda, the College is designed to improve Danzhai's quality of life through education, eliminating the possibility of poverty arising from the source. Covering an area of 300 mu (approx. 200,000 square meters) and occupying a total floor area of 50,000 square meters, the college will be able to accommodate 2,000 students. The College facilities have met national top-tier vocational college standards. It offers majors associated with Wanda's business fields and positions, with 50% of the graduates to be hired based on merit and work at Wanda each year. The College is expected to enroll 700 Danzhai students each year. Calculating from the standard of 3 people per family, the school will help lift around 2,000 Danzhai residents out of poverty annually.
The medium-term part of the project is the RMB 700 million Danzhai Wanda Village, designed to lead the county's tourism development and create many employment opportunities. The site covers an area of 400 mu (approx. 266,640 square meters) and a floor area of 50,000 square meters. Constructed and designed in the style of Miao architecture, the Village portrays Danzhai's unique national non-material cultural heritages, handicrafts with ethnic Miao characteristics, Miao delicacies, and Miao medical treatment and medicines. Accompanied by the 4-star Wanda Jin Hotel, Inns and a Wanda Cinema, Danzhai Wanda Village will become an exclusive tourism project in China. The successful operation of the Village will generate 2,000 direct employment opportunities annually, attract 1 million tourists to Danzhai annually, and increase local tourism revenue by more than RMB 500 million. It will foster the growth of more than 20 industries including food, accommodation, handicrafts and agriculture. According to China Tourism Academy's estimates, more than 10,000 indirect employment opportunities will be created.
The short-term part is the RMB 500 million Danzhai Special Poverty Alleviation Fund. Serving as a bottom line for the poorest, an RMB 50 million dividend fund will be granted each year to the county in the first five-year phase. The fund targets special poverty groups who are unable to benefit from the poverty-alleviating industries. The first installment of RMB 50 million has been distributed to 38,300 Danzhai residents struggling with poverty and low income. As a result, the average income of the poorest in Danzhai has already exceeded the national poverty line of that year.
After Wanda launched the "one enterprise responsible for an entire county's poverty alleviation" in Daizhai, according to performance review of Guizhou poverty alleviation and development, Danzhai's overall index rose from 23rd in 2014 to 2nd in 2016. The project also achieved the local people's highest satisfaction level in the whole of Guizhou Province.