Delegation of Diplomatic Envoys of the Ministry of Foreign Affairs Visits Danzhai Wanda Village
06.01.2018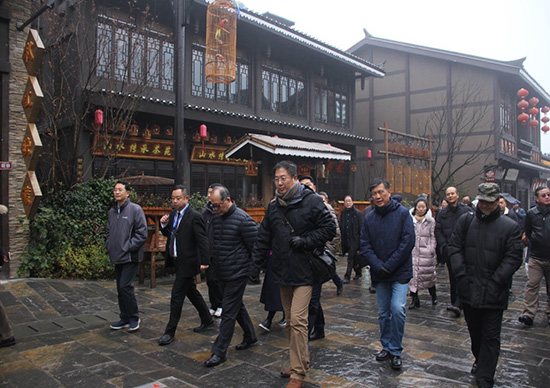 On January 6th, the delegation of diplomatic envoys of the Ministry of Foreign Affairs, led by Qiu Xiaoqi, the Chinese Ambassador to Mexico, made an inspection visit to Danzhai Wanda Village.
Danzhai County is the subject of Wanda Group's "Enterprise-to-Village Poverty Alleviation Program". Over the past three years, Wanda Group has invested RMB 1.6 billion into the county to help alleviate poverty there. One of the company's major operations to achieve this has been to attract tourism to Danzhai Wanda Village, which is now the driving force behind the economic development.
Danzhai Wanda Village has attracted more than 3 million visitors since it opened for business in July 2017, and boosted Danzhai County's tourism revenue by RMB 2.1 billion. This has also both directly and indirectly led to an increase in income for 26,637 poverty-stricken people, a number that accounts for nearly 75% of the county's total poverty-stricken population.
Wanda has created a completely new tourism-based model of poverty alleviation in Danzhai County, established a new brand of tourism-based poverty alleviation, and successfully won China's first Poverty Alleviation Innovation Award, setting a shining example for other Chinese enterprises participating in poverty alleviation.
After learning about Danzhai Wanda Village, Wu Peng, the Chinese Ambassador to Sierra Leone, described his amazement of it, and noted that he had been greatly impressed that Danzhai Wanda Village had attracted more than 3 million visitors within just six months, that they are seeking to alleviate poverty but without any returns, and that the project is so sustainable. "Very rare," he commented. He further noted that the village, built along the water's edge, boasts beautiful scenery and how, with its hot spring, hotel, cinema, and other features, it is sure to significantly drive the development of the local economy.
Other envoys agreed that the Enterprise-to-Village Poverty Alleviation Model is worth learning about, and commented that Wanda has made an important contribution to alleviating poverty for the local ethnic minorities.
The ambassadors of the Ministry of Foreign Affairs of the P.R.C. visited Guizhou in order to put into practice the spirit of General Secretary Xi Jinping's speech made at the 2017 Diplomatic Envoy Conference.
The delegation was made up of 23 ambassadors, 10 consul generals and two counselors, hailing from Mexico, Kenya, Azerbaijan, Ghana, Jamaica and Costa Rica.
Website Index
About Wanda

Core Industries

CSR
Media Room

Wanda Worldwide
Address: Tower B, Wanda Plaza, No. 93 Jianguo Road, Chaoyang District, Beijing Tel.: 010-85853888