Wanda Group launches FIFA Women's World Cup France 2019 TM Campaign – the first ever by a Chinese Company
26.03.2019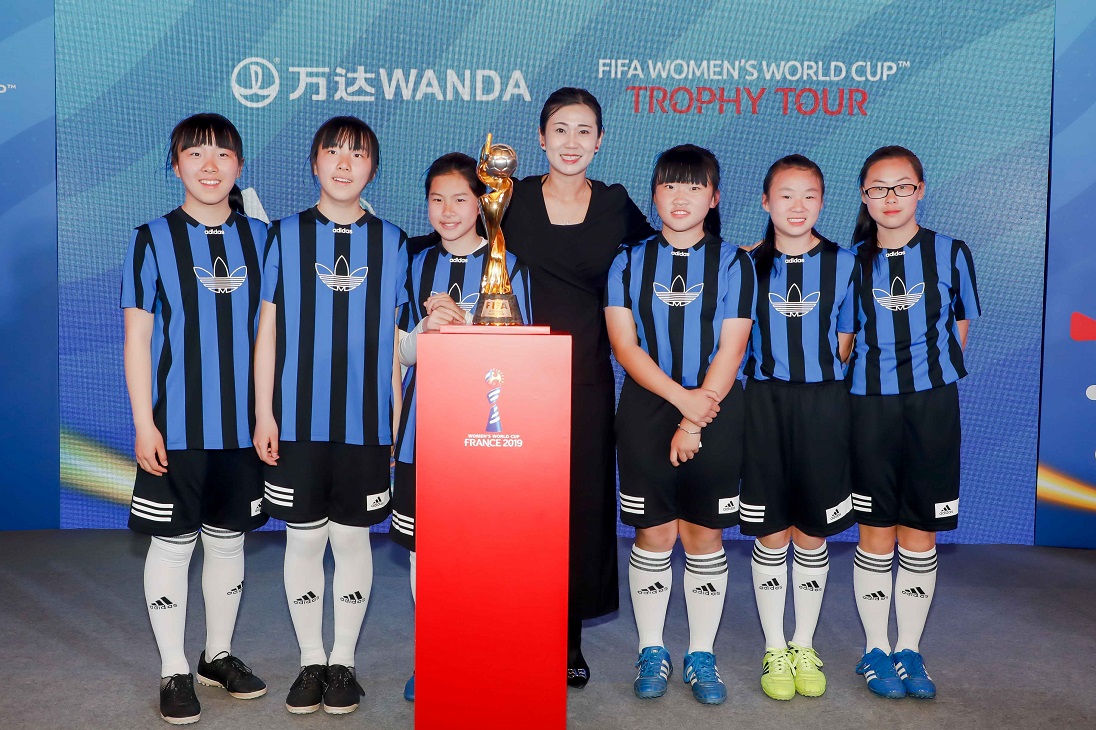 BEIJING, 26th March 2019 – Wanda Group, the first Chinese company to sign up as a FIFA partner, today revealed details of its FIFA Women's World Cup France 2019TM campaign at the Wanda Vista Beijing hotel as part of the official FIFA Women's World Cup Trophy Tour.
Wanda aims to support the long-term development of the football community, both in China and internationally, and will continue where it left off in Russia by again providing the flag bearers for all 52 of the FIFA Women's World Cup France 2019TM matches.
Wanda Sports President Hengming Yang – who was joined at the event by FIFA Chief Commercial Officer, Philippe Le Floc'h; FIFA Women's Football Head of Competitions Sara Booth MBE; and– Former China National Women's Football Team Captain, Han Duan, outlined the next phase of Wanda's partnership with FIFA, explaining how it was focused on supporting the thriving women's game:
"We are hugely excited to launch Wanda's first FIFA Women's World Cup campaign as it genuinely breaks new ground for the company. When we signed up as a FIFA partner, it was with a long-term commitment to work towards the growth of the game in all forms."
"The FIFA World Cup in Russia was not a one-off. It was just the beginning of our journey and we are proud that Wanda Sports will be giving the Women's World Cup in France the same level of focus and investment this summer."
As part of the tournament in France, Wanda will be providing all 312 of the official flag bearers. As well as giving the children aged 12 to 17 years old a once-in-a-lifetime opportunity to walk out on the pitch during a Women's World Cup game, these girls and boys will also be flown to France and experience first-hand the atmosphere and excitement of being on-the-ground in the host country.
Wanda Sports will work with its partners at the grass roots of the game in both China and France to create a variety of ways for children to become a flag bearer. From regional competitions to talent contests, the mechanic will be designed to meet the local needs of the partner. There will be 156 children from China and 156 children from local clubs and academies in France; part of Wanda's goal to continue to inspire the next generation of Chinese football fans and also make a positive contribution to the Host Country of FIFA's events.
Six children from the Beijing Campus Football Association (BCFA), established in 2015 to develop football through the education system in China, were present at the launch and pictured with the iconic trophy to launch the project.
Commenting on the announcement, FIFA Chief Commercial Officer, Philippe Le Floc'h, said:
"As FIFA's first Chinese partner, Wanda has made a big impact; not just in China but around the world. It was striking last summer how Wanda used its sponsorship not simply to showcase their brand on a global stage, but also to help promote and grow interest in the tournament and football back home in China."
"More than 40,000 Chinese fans travelled to Russia and many more watched on TV at home, with the Brazil vs Costa Rica Group Match becoming the first ever FIFA World Cup fixture to be viewed by 100 million fans from one single market. We are delighted Wanda Sports will be continuing to activate in a similar way around the FIFA Women's World Cup this summer."
FIFA Head of Competitions – Women's Football, Sara Booth MBE, also commented:
"It is very gratifying to see the level of support towards the women's game being given by the Wanda Group. China has a great legacy in women's football and as the game continues to grow in popularity all over the world, I'm particularly pleased to be working with Wanda Group to help inspire future generations of female players and fans through the flag bearer programme."
Han Duan, FIFA legend and former star of China's women's national team having been capped 178 times for her country, added:
"It is brilliant to be involved in launching Wanda's FIFA Women's World Cup campaign. I have experienced first-hand the passion that exists for women's football in China and around the world, so it is great that Wanda is leading the way as the only Chinese company supporting the tournament."
"Wanda is genuinely helping to inspire these Chinese kids to create the next generation of Chinese footballers. Unfortunately, I never got my hands on the FIFA Women's World Cup trophy, but some of these children might."
Wanda signed up as a top-level partner of FIFA in 2016, becoming a sponsor of all FIFA competitions up to and including the 2030 World Cup.