CGTN: Handicraft Business Promotes Village Homecoming amid Urbanization
01.04.2019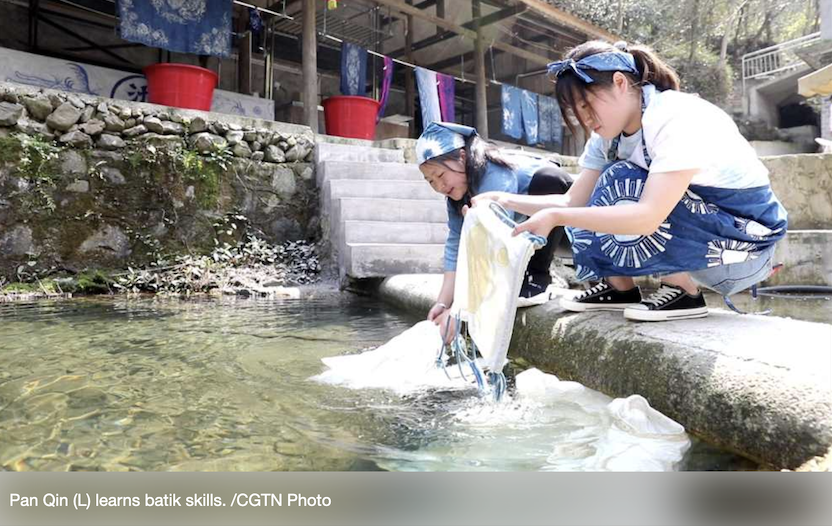 Link to the original TV story: https://news.cgtn.com/news/3d3d414f356b6a4e33457a6333566d54/index.html
29-Mar-2019 by Zhao Yunfei, Zhang Youze and Meng Mingwei
China's ongoing urbanization process has brought opportunities for many young migrant workers. But it also means losses on the side of rural areas.
After having worked in southern Shenzhen for years, 31-year-old Pan Qin decided to return home. She got a new job in Laodong Village in southwestern Guizhou Province. The village is just a 10 minutes motorbike ride away from where her parents live.
Pan is committed to handicraft production in Laodong, but she had to learn the skills from scratch.
The needlework used to be auntie and grandmas' job, as many young adults left the villages and joined the tides of urbanization. But the increasing demand for embroidery and batiks brought back some young people like Pan.
"I came back because I have to take care of my children and parents. This job also helps me learn something that is a signature of my own culture," Pan said.
For many locals in Guizhou, the skill was written in their genes.
"We started embroidering things when we were young. It's part of our Miao ethnic culture. We learned the skills from our elders," said Wu Ruqun, an embroidery artist in Laodong.
Both Pan and Wu joined a group called Gen-Silk, a company that runs training workshops for handicraft artists and collects orders from clients.
"Some young people are not even interested in their own cultures due to outside influence," said Yu Ying, Gen-Silk's founder, "this business can help them realize the value of their own history."
Young people ought to receive respect, said Yu, and the best way to ensure that was by getting sufficient payment.
"Many people had hoped that they would branch out and see the world. But once they came back, they found the place where they got the most respect is at home," Yu said.
The final products are sold both online and offline. One offline store, Vimemo, is located just half an hour from the workshops.
Vimemo belongs to the commercialized Danzhai town built by Wanda Group. There are 210 tourist shops in the town which was established to help local villages alleviate poverty.
"Wanda Town brings a large number of foreign tourists to Danzhai County every year, which creates opportunities for young people in Danzhai to return home for employment and entrepreneurship," Wanda's spokesperson Liu Mingsheng wrote in an email interview with CGTN.
The design products at Vimemo combine traditional styles with fashion tastes.
"Merging culture doesn't mean we are losing our roots, but it shows that we have become more tolerant," Yu said.
Website Index
About Wanda

Core Industries

CSR
Media Room

Wanda Worldwide
Address: Tower B, Wanda Plaza, No. 93 Jianguo Road, Chaoyang District, Beijing Tel.: 010-85853888