Crafts, heritage brighten up Guizhou
11.12.2020
Visitors have long heard about the great Huangguoshu Waterfall in Guizhou province-one of the largest waterfalls in China.
Apart from such amazing natural scenes, many parts of Guizhou boast rich and exotic ethnic cultural heritage and unique local customs.
One example is Danzhai county in Qiandongnan Miao and Dong autonomous prefecture, which has seven national, 24 provincial and more than 100 prefecture and county-level intangible cultural heritage sites. Guizhou ranked in the top three destinations that Chinese tourists want to visit most after the COVID-19 pandemic, according to a report by online travel agency Trip.com released in April.
In late November, the Guizhou provincial government announced that all impoverished counties have been lifted out of poverty.
Duan Qiang, chairman of the World Tourism Alliance, says this is partly thanks to the province's efforts focusing on its tourism industry. "The integration of intangible cultural heritage and tourism has greatly contributed to Guizhou's poverty alleviation work," Duan says.
China Tourism News recently introduced 12 intangible cultural heritage tourist routes selected by experts and scholars from more than 160 routes submitted from across the country. The aim was to get tourism corporations to work more closely with intangible cultural heritage institutions, and enrich tourism offerings in the market. Among the 12 recommended routes, one of them is located in Guizhou.
In regions like Danzhai in Guizhou, intangible cultural heritage becomes an integrated experience for visitors and an essential way for locals to make a living.
Danzhai Wanda village is 145 kilometers from Guiyang Longdongbao International Airport. It is a major project started by the Wanda Group to help the county shake off poverty. The county managed to achieve this goal last year.
Since its opening in 2017, the scenic area has attracted more than 19 million tourists to its picturesque scenery and architecture, exotic ethnic culture and intangible cultural heritage activities.
Walking along a street lined with traditional architectural buildings, tourists can learn more about the Miao ethnic group's traditional silver ornaments and embroidery. In one store, tourists can learn how to dye a handkerchief in traditional batik style.
At night, tourists can take a breathtaking walk across a transparent glass bridge above the river, dress up in traditional Miao costumes to take photos, and soak in the relaxing hot springs.
There is also a chance to rub shoulders with intangible cultural heritage inheritors.
Wang Dengshu learned the art of making animal-shaped clay whistles at the age of 18. His elegant colorful whistles are often shaped into animals from the Chinese zodiac.
Since 2015, the 52-year-old has been invited to showcase his craftsmanship at the Guizhou Provincial Museum in Guiyang, along with other national intangible cultural heritage inheritors. They are also offered subsidies when they visit other cities for exhibitions.
"The government policy helps promote intangible cultural heritage. It also increases the sales of my whistles as more people know about them," says Wang, who recently visited the village for an exhibition.
In Danzhai, the Kala village is famous for its beautiful bamboo birdcages made by the local Miao people, who have used them to raise laughingthrush for generations.
Wang Qiu, a local from Kala village, says the birdcage making industry has boosted the local economy and tourism, attracting visitors to buy birdcages as souvenirs and enjoy getaways in their homestays. "Villagers are able to support their families with traditional skills and they don't have to leave their hometown to be migrant workers in big cities," says the 32-year-old.
She learned the skill, which has a 400-year history, from her father-in-law, who is a provincial intangible cultural heritage inheritor. He is one of the pioneers in the village who traveled afar in the early days to sell birdcages in other regions.
The local government offers them subsidies if they train those who live below the poverty line to make birdcages.
Wang says the price of a birdcage can range from a couple of hundred to more than 3,700 yuan ($566) depending on the quality of the workmanship. Birdcages with exquisite carvings will fetch more handsome prices.
Some inheritors have transformed the bamboo cages into lamps or revolving bookshelves, which can make unique decorations at home.
Yang Na'niumian, a 46-year-old local from a remote Danzhai village, started work at a local factory in May to make batik cloth with a monthly salary of more than 2,000 yuan.
She will make a draft of auspicious motifs like flowers and birds with a pencil on a cloth and apply melted wax to it, which will be removed after dyeing.
Like many of her fellow villagers, Yang learned the Miao traditional batik craft of dyeing from her mother when she was a teenager.
"I used to be a housewife, so this job allows me to supplement the family income with my professional skills," she says.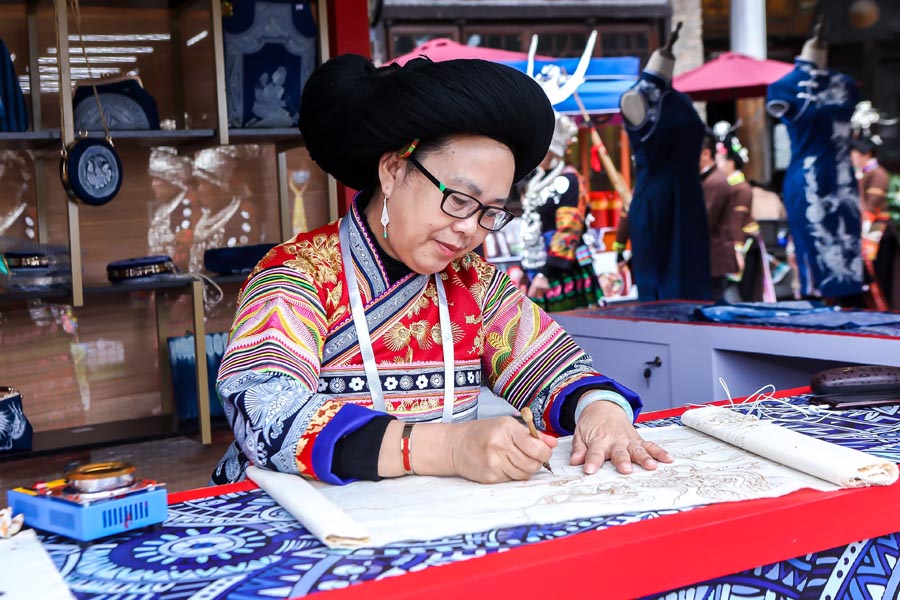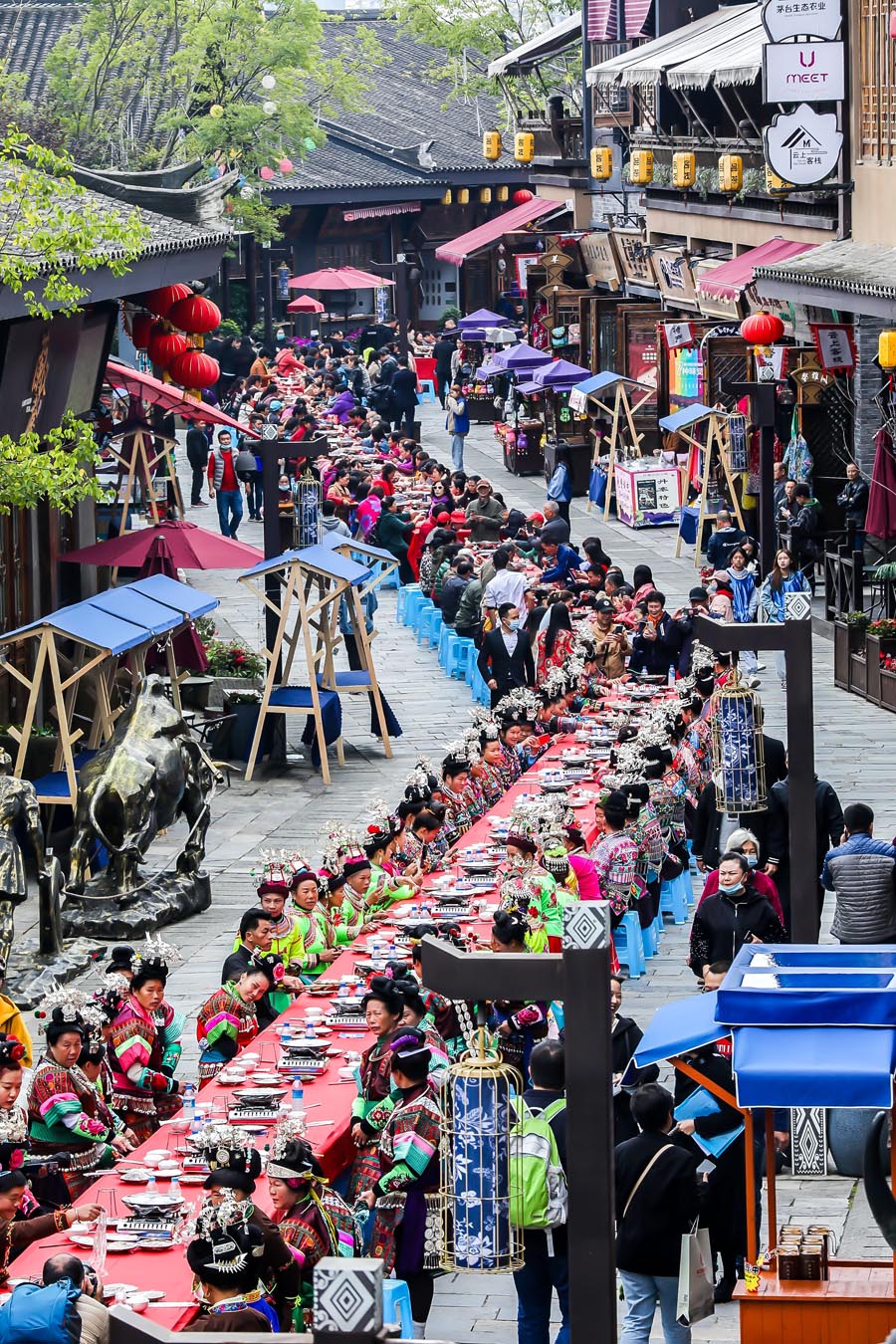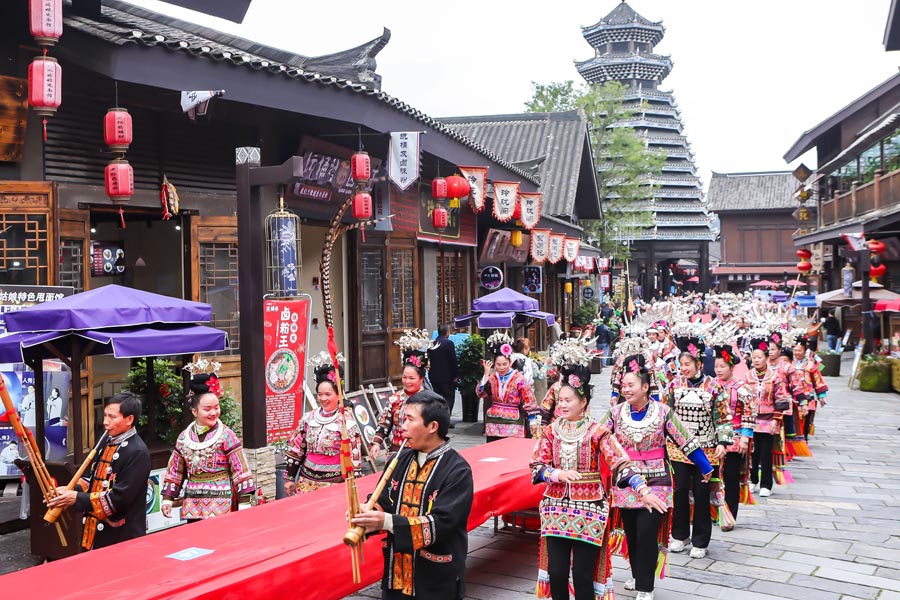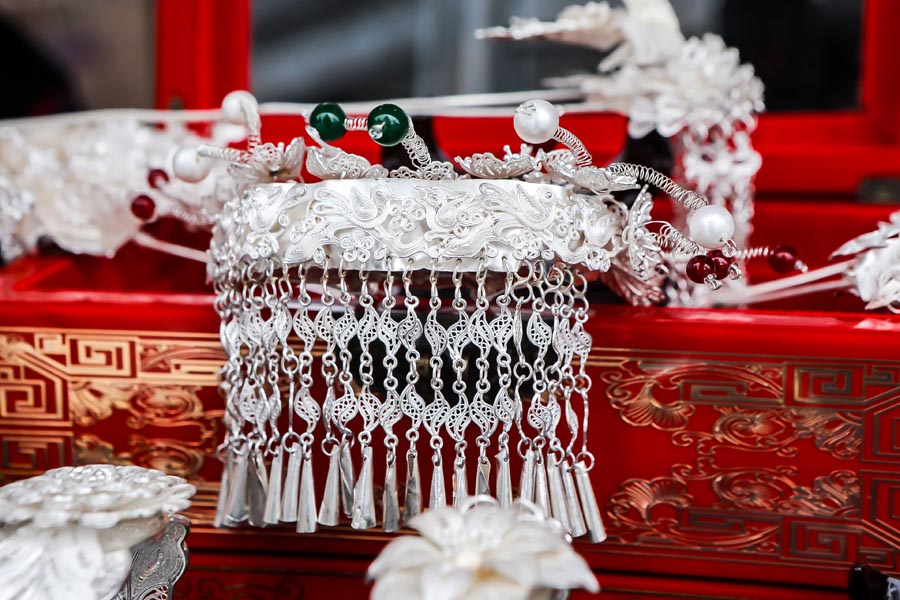 Next: none