Speech by Chairman Wang Jianlin at the Launch of Yan'an Wanda City
18.04.2019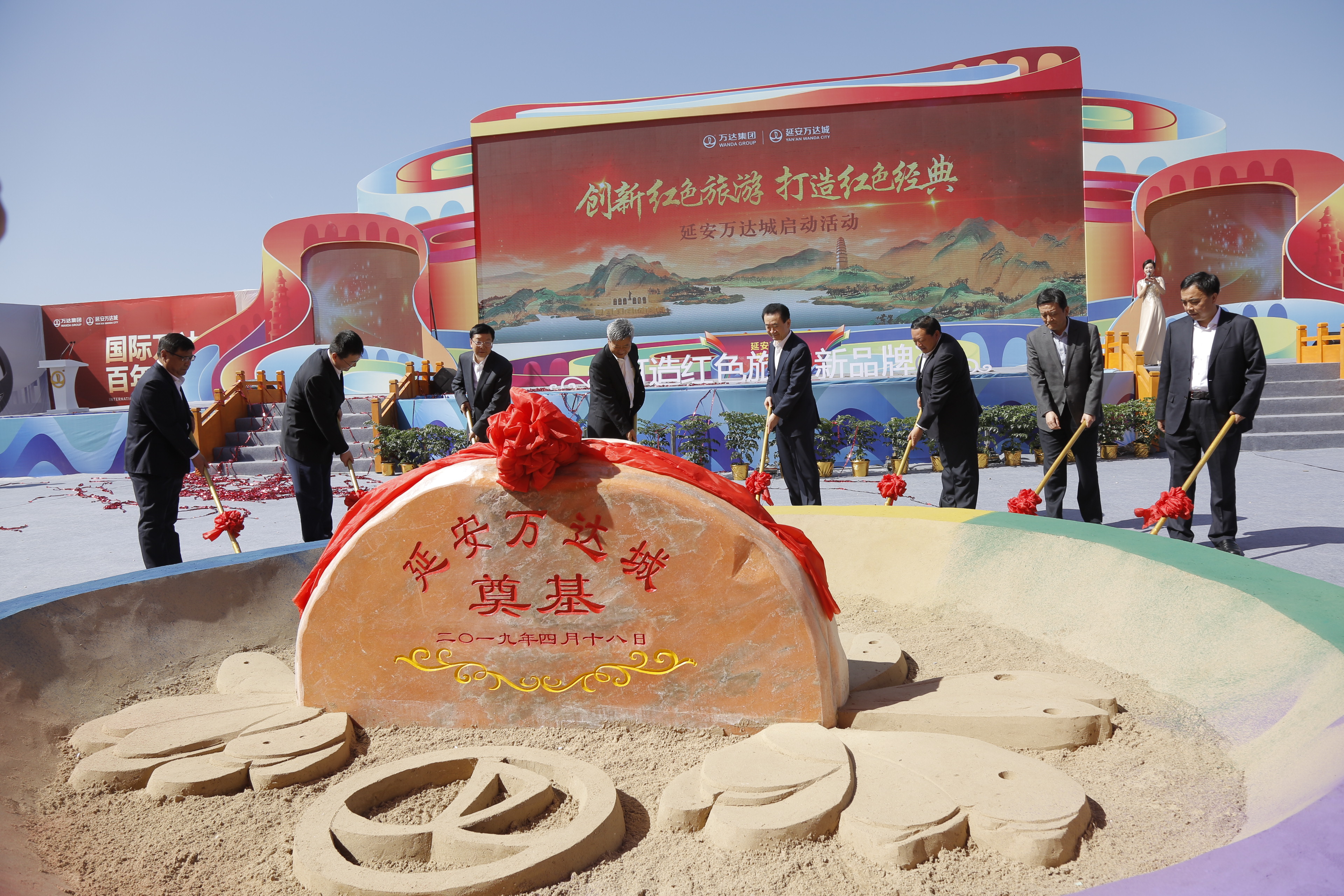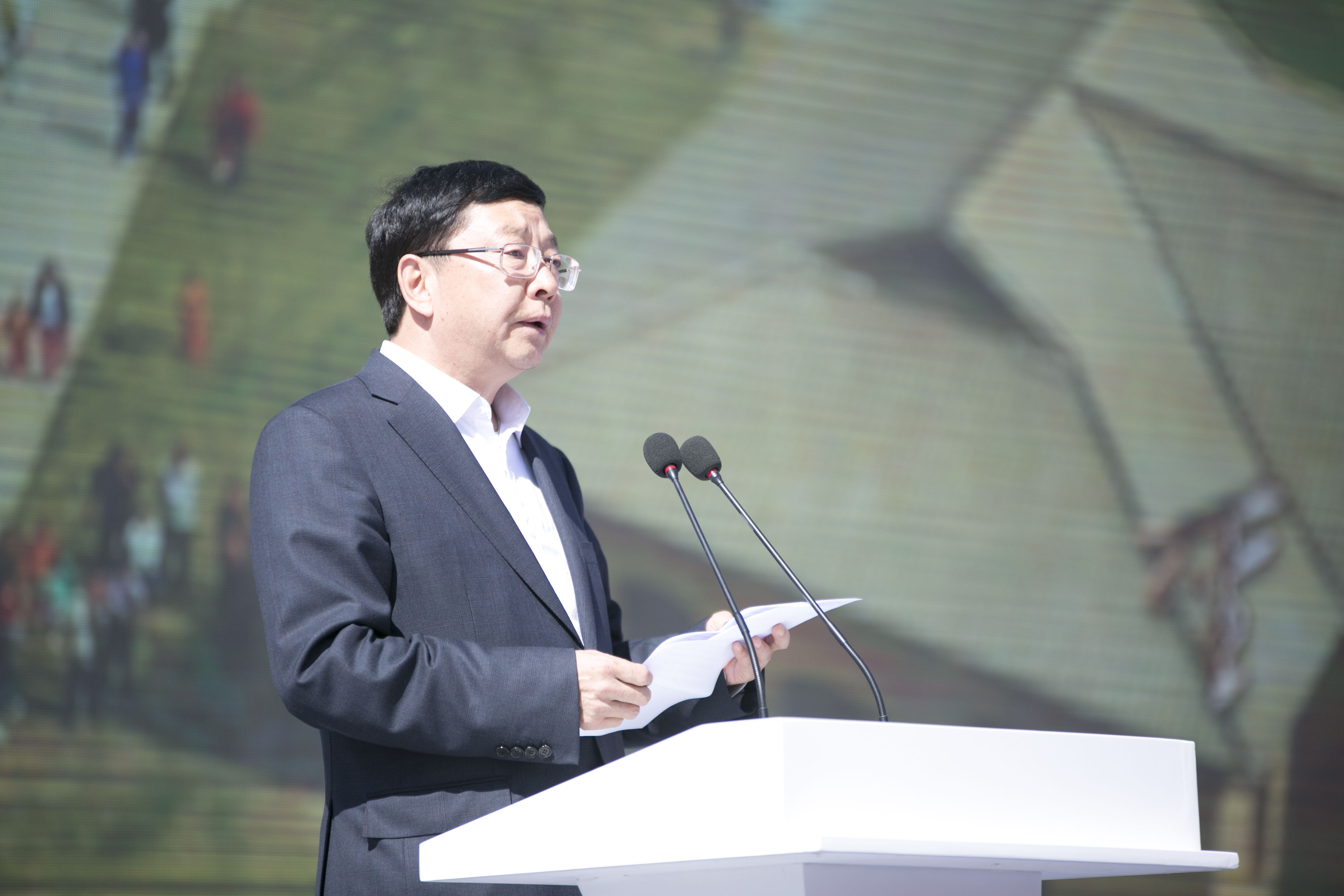 On April 18th, China's first red-themed Wanda city held its launching ceremony in Yan'an. The red tourism brand is jointly built by Wanda Group and Yan'an city for the centenary anniversary of the Chinese Communist Party. Xu Xinrong, member of the standing committee of CPC Shaanxi Provincial Committee and secretary of CPC Yan'an Committee, Xue Zhanhai, mayor of Yan'an, and Wang Jianlin, chairman of Wanda Group attended the ceremony.
Yan'an, as one of the cradles of the Chinese nation, boasts rich historical and cultural heritage. It is home to the mausoleum of Huangdi, one of the earliest ancestors of the Chinese nation. The famous Hukou Waterfall of the Yellow River is also in Yan'an. Known as "the museum of China's revolution", it was also where the Chinese Communist Party led the Anti-Japanese War and the War of Liberation, which makes Yan'an a base for patriotism education, revolutionary tradition and Yan'an spirit.
Yan'an Wanda city will highlight red culture of Yan'an and the architecture will draw features from the revolution period. The 1.5km red-themed pedestrian street integrates red culture, themed entertainment, intangible cultural heritage, traditional cuisine, featured performances, and holiday resorts. The street consists of 4 revolution-themed blocks and 5 plazas representing different eras in Yan'an history. Over 50 types of intangible cultural heritage of Shaanxi will be on display, including local handicrafts, food, performances and more. The street will exhibit distinctive Yan'an and Northern Shaanxi characteristics.
The integration of high tech and red theme creates a new red tourism experience. The ice and snow park will have a mega ice lake area, ice and snow tubes, snow experiencing area, ice and snow carnival, aiming to build an ice world that lasts throughout seasons. China's first ice dance version of the White-haired Girl will use dance, acrobatics and light show to reproduce the classic. The big lake show will be Yan'an's first show featuring music and water, creating a visual and audio feast for the visitors.
Below is the speech make by Chairman Wang Jianlin at the foundation stonelaying ceremony of Yan'an Wanda City:
Distinguished Party Secretary Mr. Xu, Mayor Mr. Xue and dear guests,
Spring sunshine illuminates all things and everything takes on a new aspect. Today is worth celebration. We gather at the sacred place of Chinese revolution for the launch of Yan'an Wanda city. Please allow me to present the warmest welcome and heartfelt appreciation to all the guests!
Yan'an Wanda City is a cultural tourism project with special meaning. The project is Wanda's new-generation ultra-large comprehensive cultural tourism project. It is tailored to Yan'an for the city's uniqueness. The project covers 128 hectares with a total floor space of 2.7 million square meters. The total investment is 12 billion yuan. Visitors can receive patriotic education, experience folk customs and enjoy relaxing holidays. The complex consists of red town, military theme park, ice and snow park, ice dance theater, big lake show and a cluster of holiday hotels.
The construction of Yan'an Wanda City will significantly raise the level of red tourism infrastructure in Yan'an, upgrading local tourism from the supply side. The original idea of the red town includes a themed pedestrian street stretching 1.5km. The concept and scale of the project are second to none. Large-scale indoor theme park and theater are both designed particularly for Yan'an with nationally-leading technology and design. The five-star hotel planned will fill the void that there was no high-end holiday hotel in Yan'an.
The innovative content on offer at Yan'an Wanda City combines science, technology and red theme, creating new experiences for red tourism. This project will enrich tourism experience in Yan'an.
When Yan'an Wanda City is completed, it will greatly upgrade the local economy and push forward its transition, creating new fronts for economic growths. It is expected that Yan'an Wanda City will receive more than 10 million visits annually and create over 10,000 jobs locally, upgrading the city's red tourism to a new level.
Yan'an Wanda City project has enjoyed enormous support from the municipal government and various government departments. On behalf of Wanda Group, I extend the most sincere gratitude to the city government, particularly to Party Secretary Mr. Xu and Mayor Mr. Xue. Their personal involvement made it possible for the project to take off in a short period. With a strong sense of historical mission and social responsibility, Wanda will spare no effort to ensure that the project will have a splendid opening in 2021. The Yan'an Wanda City will be built into a new brand for China's red tourism and it will be presented as a gift to the 100th anniversary of the founding of Chinese Communist Party.
Next: none