Wanda is to Build a World-class Youth Football Training Base in Dalian to Support Campus Football
29.04.2019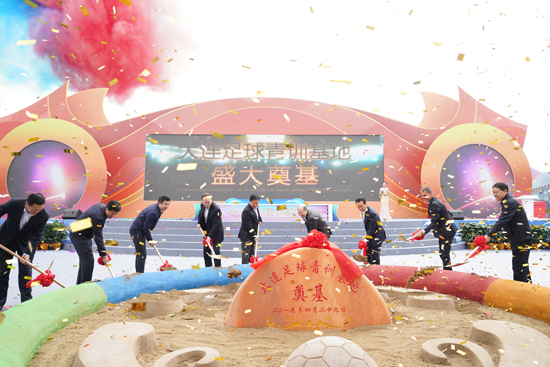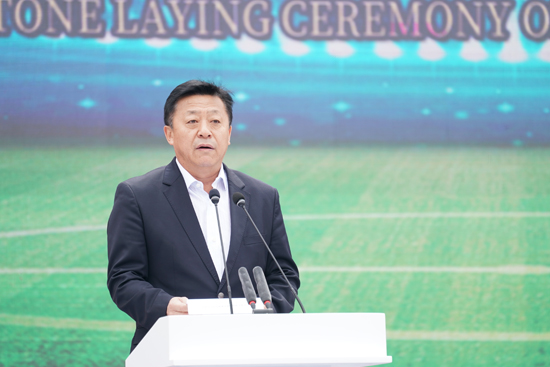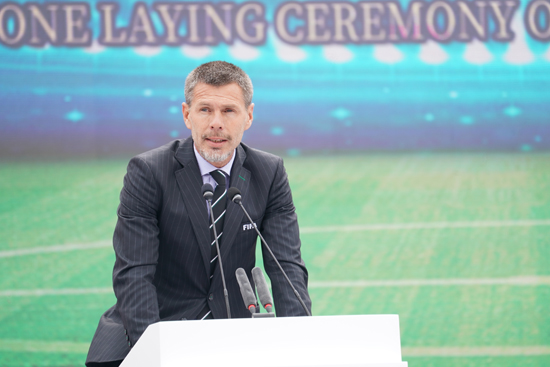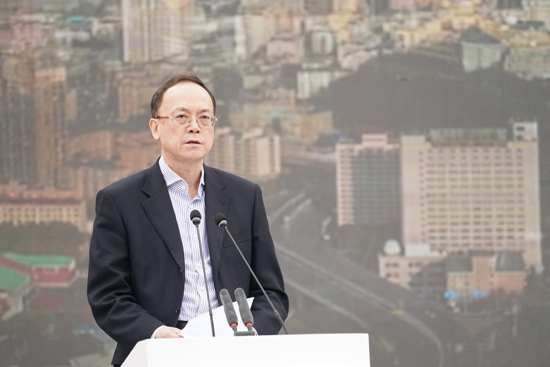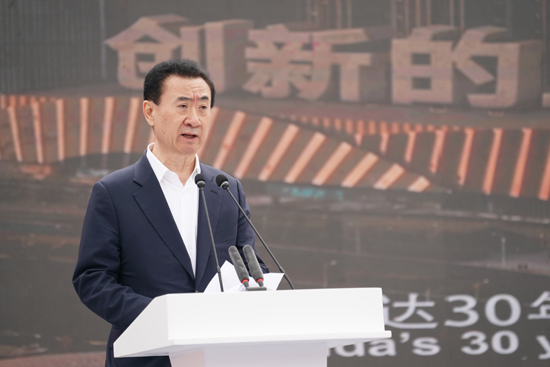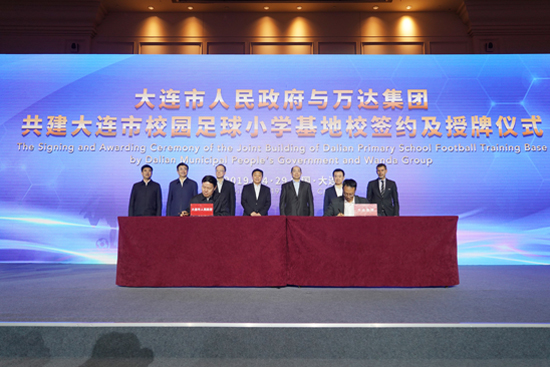 The foundation laying ceremony of Dalian Youth Football Training Base, together with the signing ceremony for the joint construction of campus football bases by Dalian Municipal Government and Wanda Group, were held in the morning of April 29. The event was attended by Du Zhaocai, Deputy Director of the General Administration of Sport of China and Party Secretary of the Chinese Football Association, Tan Zuojun, Party secretary of Dalian, Tan Chengxu, Mayor of Dalian, Boban, Deputy Secretary General of FIFA, and Wang Jianlin, Chairman of Wanda Group.
The Dalian Youth Football Training Base will be built according to top international standards. The project covers an area of 22 hectares with a construction area of 90,000 square meters; the total investment is 2 billion yuan. A cluster of 23 football fields for training and competition will be built, among which 12 are standard fields, 6 floodlit fields, 2 fields with under-soil heating system, 2 indoor fields and 1 competition field with a 5000-seat stand. The training base will consist of 5 buildings equipped with world-class accommodations, teaching, rehabilitation, conference and other supporting facilities. It can meet the needs of 18 teams with a total of 600 coaches and athletes. First teams, reserve teams, youth teams, and women's football teams can all find the facilities useful. Construction of the base will not only fill the void that there is no world-class youth football training base in Dalian, it will also make the base one of world's top football training facilities. The base is scheduled to open in December 2019. In addition to meeting the needs of professional football clubs, it will also serve as training and competition venues for Dalian's primary and middle school students who love football.
Dalian Municipal Government and Wanda Group signed a strategic cooperation agreement. Wanda will invest 50 million yuan annually to support 10 primary schools in different districts and counties of Dalian to strengthen campus football. Six football teams of different age groups will be set up at each football base school. Each base school will hire 8-10 high-level Chinese and foreign coaches specializing in youth football training. Every year, the 10 selected schools will organize youth football league matches. The schools will also have opportunities to conduct international exchanges with foreign youth teams.
Wanda had launched its youth training program "Future Stars of Chinese Football" in 2011. Since then, Wanda has sent 30 outstanding 12-year-old football talents each year to train in three Spanish clubs: Atlético de Madrid, Valencia and Villarreal. So far, more than 200 players have gone to Spain on this program. Over the past eight years, many of the players have been selected by Chinese National Youth Team. More than a dozen players have signed professional contracts with overseas football clubs, including one with Atlético de Madrid's U19A team. These players have gradually become "Future Stars of Chinese Football" and they are expected to contribute to the development of Chinese football in the future.
Dalian is China's famous football town. It is also the city that produced the most football talents in China. At present, over 70 players from Dalian are playing in China Super League. However, the performance of Dalian football has declined significantly in the past decade. The core reason is the the lack of continuity in the talent pipeline – the number of youth players in Dalian is less than a tenth of what it was at its peak. What Wanda does first upon its return to football after many years is to build a youth training system, which shows that Wanda has identified the core factor to promote the revitalization of football in Dalian. It can be expected that Dalian's football will certainly return to the top level in China and Asia. In order to adapt to international practices and in accordance with the requirements of the Chinese Football Association, Wanda will change the name of the former Dalian Yifang Football Club, in which it has invested, into a neutral name. It has sent the application to the Chinese Football Association for approval.
Wanda Group will also actively promote the construction of professional football fields for competition purpose in Dalian. Currently, Wanda is selecting the sites.
Next: none